We have all become more aware that we need to pay attention to global issues like climate change, excess waste and shopping more sustainably. But what does that mean for daily actions like buying a new dress?
It is generally accepted that the fashion industry is one of the least sustainable industries in the world, with statistics like clothing production has doubled since 2000; people bought 60% more clothes in 2014 than in 2000 but only kept them half as long; and the equivalent of one garbage truck full of clothes is burned or dumped into landfill every second – it's no wonder why.
One way to mitigate these concerns, obviously, is to just not buy any new clothes. However that sort of committed action is difficult to follow through on, and also comes with some other concerns. If you stop buying clothes, what happens to all the people employed in making them?
Historically women have been the backbone of the clothing manufacturing industry; 70% of workers in China's clothing factories are women. Without the wages from working in these factories, hundreds of thousands of families would starve. So while their overall conditions and pay are still ridiculously terrible, clothing manufacturing is still an important part of the global economy, and keeps a lot of people – particularly women – in employment.
So, if you are going to shop, and let's face it most of us are, then another option is to support sustainable and ethical fashion brands. While sustainable fashion has been gaining popularity globally for at least a decade, in Asia it took a little while for it to take off. Now, however, there are hundreds of fantastic Asian fashion brands that are not only stylish, but also sustainable and ethically managed.
Susannah Jaffer is the Singapore-based founder of Zerrin, an online retail platform that sells sustainable and ethical Asian fashion brands. In the last few years Ms Jaffer has seen a substantial uptick in interest for shopping for more sustainable fashion brands.
"Yes, more and more people in Singapore and Asia are interested in buying and supporting sustainable fashion businesses; but this comes in many forms," says Ms Jaffer.
"I think Gen-Z are leading the way when it comes to supporting and popularising swapping and thrifting; I think this is down to a combination of both price (let's face it, it's cheap) and being able to experiment with trends in a greener way, through secondhand means.
"On the flip side, at Zerrin the majority of our customers (locally and regionally in Asia) are millennial AND looking for great, contemporary products by interesting, purpose-driven brands. While sustainability has always been a core curating factor, so is quality and contemporary design.
"[However] sentiments are still definitely higher towards looking for ethical brands in markets like the US, Australia and the UK," explains Ms Jaffer.
10 Sustainable Asian Fashion Brands to Look Out For:
ALT JEWELLERY
This Singapore-based brand is known for its ethical approach to material use and working with fair trade organizations in Southeast Asia to support sustainable, dignified employment and positive social change. All products are made in Cambodia by local artisans in fair trade workshops. "ALT jewellery creates fine jewellery from brass extracted from exploded landmines. I love the quality of the designs (they are also all gold, rose gold or 925 silver plated) and the way they add an edge to any outfit," says Ms Jaffer. According to the brand: "The base metal of each piece is upcycled from spent bombshell casing, remnants of the Vietnam War which pulled Cambodia into its vortex. It is our intention that our jewelry serves as declarations of peace and personal strength, for both maker and wearer." The style is sharp and modern with a strong non-gendered vibe for both men and women to wear easily.
Shop the brand: altthecollection.com
NOBODY DENIM
This Melbourne denim brand is all about sustainability and ethical production. All the garments are made in Melbourne with guaranteed fair working conditions; Nobody Denim is also accredited with Ethical Clothing Australia (ECA). The brand works with suppliers who meet IS014001 standards, use natural enzymes in their laundry, have reduced water use for certain processes by 50% and support Australian hardware suppliers like YKK zips to reduce their carbon footprint. Nobody Denim doesn't just do jeans, the brand also offers womenswear tops, skirts and even dresses in fabrics like organic cotton and silk. But it's best pieces are the denim, particularly their collection items like coloured denim, wide-leg jeans and slim cut denim jackets.
Shop the brand: nobodydenim.com.
ONE PURAM
"Great cuts, interesting prints and colours. Tencel fabric," says Ms Jaffer. This Bali-based brand creates contemporary womenswear. One Puram has a fun resort vibe, with bright prints and colours inspired by the nature of Bali – think shades of blue, with pops of apricot and gold. The silhouettes are comfortable with elasticated waists and easy to wear fits.
Shop the brand: www.onepuram.com
PARTSPARTS
Korean brand PartsParts has a unique proposition focusing on Zero Waste production of its garments. Designer Im Seon-ok had worked in the fashion industry for years before coming to the realisation that waste was a major issue. The brand produces mostly womenswear but all of the pieces are reversible, designed to be comfortable when worn, made from sustainable fabrics. The brand's tagline is "Nothing to Throw Away, Clothes Unable to be Thrown Away" so the shapes and styles are simple and mostly classic with a touch of early 80s Japanese design.
Shop the brand: www.partsparts.shop
RE:NNE
Tokyo based brand Re:nne is brand new having just launched in March, 2021. The focus is on vegan leather wallets with the aim to create a new kind of heirloom. According to the brand, it wants to "achieve both environmental protection, design, and functionality, and to change the shape and pass it on from generation to generation". The designs are very minimalist in style but also practical; they are made from Nopale leather – a kind of cactus – and are 100% chemical free and partially biodegradable. They also look exactly like animal leather. The wallets are made in small batches by Japanese leather artisans.
Shop the brand: rennetokyo.thebase.in
SHADE SWIM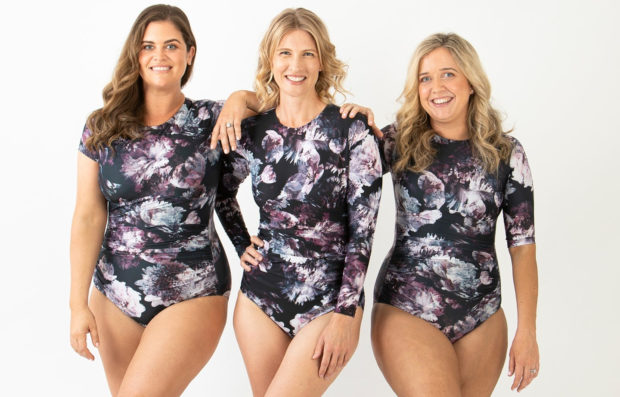 If you're as scared of the harmful rays of the sun as I am, you need to check out Australian swimwear brand Shade Swim. The brand was created by a young mother who suffered from skin cancer, and who wanted to create swimwear for adult women that is more covered up, and with a high level of sun protection. The good amount of coverage also makes this brand an appropriate one for women looking for more modest swimwear Shade Swim's designs are not trendy, but they are comfortable and flattering for women of all ages and body types, they protect your skin and are made from a type of sustainable Lycra called Carvico ECONYL that is UPF 50+ and is made from recycled fishing nets.
Shop the brand: www.shadeswim.com.au
STAIN STUDIOS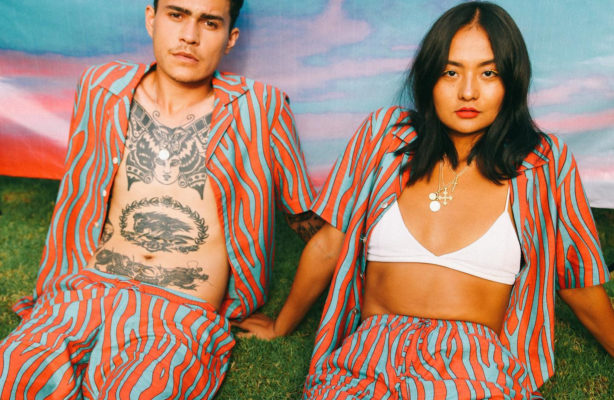 Founded by Pooja Bhansale and Monica Tarunadjaja in 2018, Stain Studios features traditional Indonesian techniques on their womenswear and menswear pieces. "I love their loud colours, prints and approach to making traditional techniques like screen printing modern and fun," says Ms Jaffer. Stain Studios use a variety of natural fabrics but the standouts are handwoven cotton and silk; the fabrics are then dyed using environmentally-friendly products or natural dyes made from Central Java plants. The overall style of the brand is casual and summer-friendly.
Shop the brand: stainstudios.com
STEP OF GRACE
An Indonesian brand based in Jakarta, Step of Grace creates garments from natural fibres, mostly 100% pure linen, GOTS certified cotton and bamboo fibres, as well as from recycled fabrics like rayon and tencel. Many of the garments are undyed and those that are use non-toxic natural dyes. The brand also offers cool slip-on handmade leather slides and slip-on shoes that are made in Jakarta by small-scale Javanese artisans using traditional skills passed down the generations in family businesses. The brand will also plant a tree for every product purchased. Step of Grace has a very laid-back, boho vibe with loose cuts and light neutral colours. The pieces have a hippy minimalist feel with simple, unadorned shapes like loose tees, baggy shorts, soft wide-leg pants and voluminous wrap tops.
Shop the brand: stepofgrace.com
WHISPERS & ANARCHY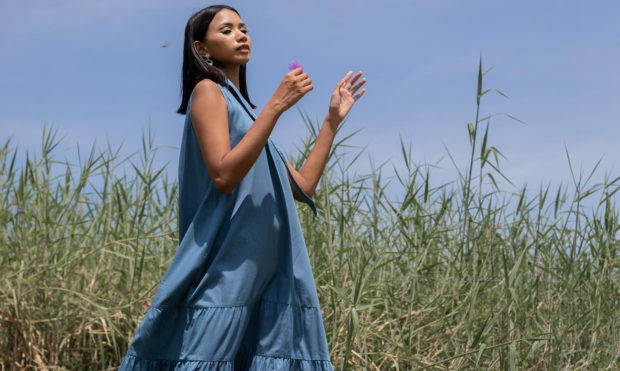 With an aesthetic that fits into the currently hot #cottagecore trend, Whispers & Anarchy has a mixed origin – born in Spain, designed in Singapore, and made in Bali. Based around the Slow Fashion Movement of limited handmade production and natural fabrics, there is also consideration for those of us on a budget with lower prices than comparable products. The brand only sells dresses and jewellery pieces, with a cool #cottagecore vibe that is feminine and easy to wear. Natural fibres like BCI certified cotton and rayon voile made from wood pulp and other agricultural products, are used to make the clothes, and they are handmade and hand-dyed on site with non-toxic dyes.
Shop the brand: whispersandanarchy.com
ZURITA
Based in Shanghai, Zurita is a sustainable fashion brand that was launched by Monica Muriel in 2015. The brand's focus on sustainable women's workwear created using natural fabrics. The designs are feminine and classic, in soft colours and forgiving cuts. The brand uses reusable delivery boxes, doesn't over-produce stock, and has a free mending service. Although there is something new every month, the runs are limited so there is less waste.
Shop the brand: @wearezurita
For more sustainable Asian fashion brands, go to zerrin.com

https://popspoken.com/style/2021/12/10-sustainable-asian-fashion-brands-you-need-to-know