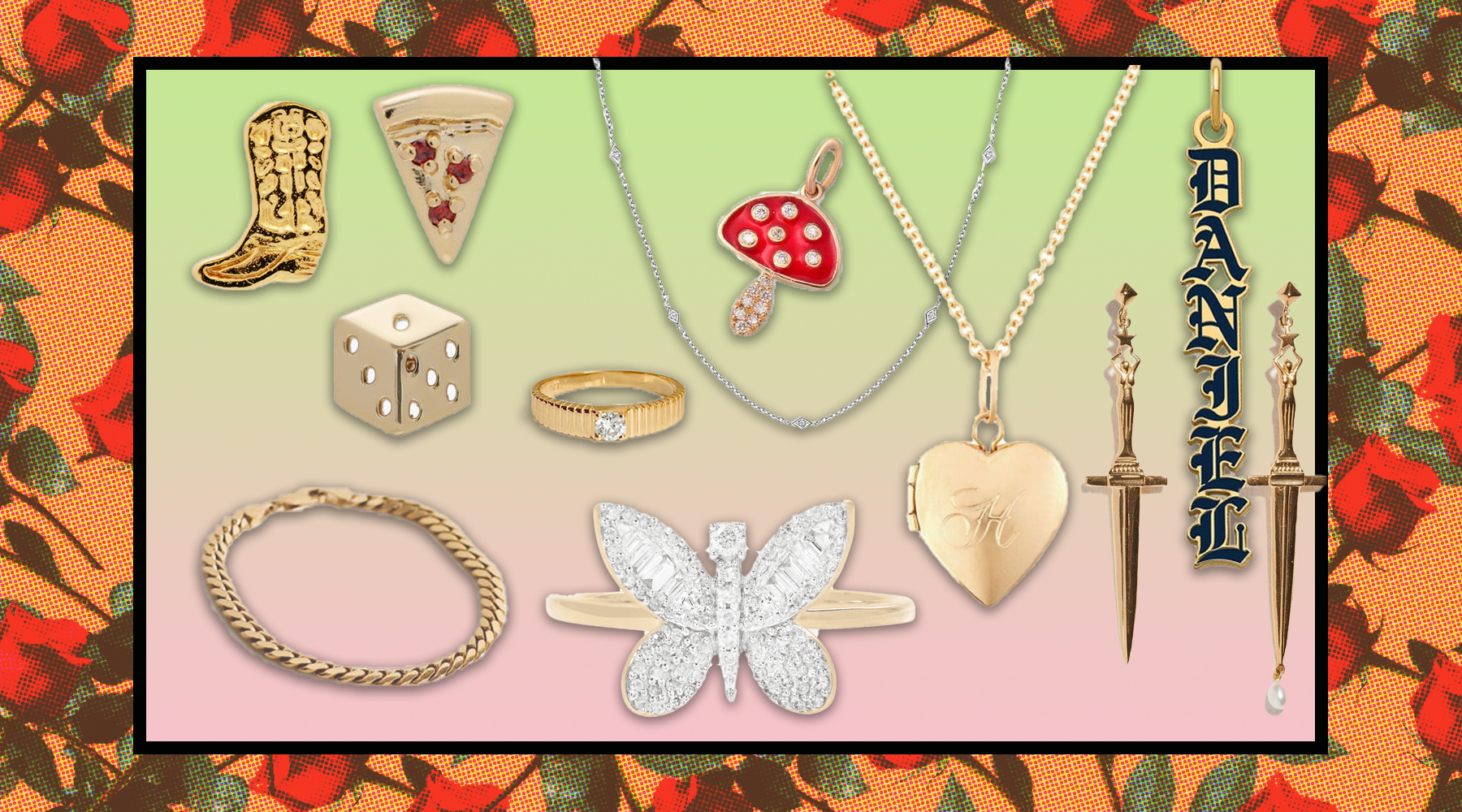 What is it about tiny, sparkly rocks that express so succinctly a particular strand of classic romance? We don't know; we're just talking monkeys floating on a rock in space, and somehow, shiny little adornments have become an important form of both currency and communication when it comes to the language of love.
But good-quality jewelry isn't cheap, and the high price tag is sometimes part of the appeal. Diamonds and cubic zirconia look pretty damn similar, but it's the idea that you're wearing a rare and precious stone that makes the former a quote-unquote girl's/guy's/person's best friend. Knowing where to get cool jewelry isn't necessarily intuitive, or as simple as googling "fancy necklace"; there's a lot of fugly, corny, tacky jewelry out there, too, and we're here to help when it comes to pinpointing brands that are actually young, modern, and, ahem, fuego. 
Alright—you're cutting it a little close, but there's still time to grab your beloved a cool piece of jewelry for Valentine's Day. If you're looking for nice Valentine's Day jewelry gifts and you have no idea where to start, these 12 brands are all making necklaces, earrings, bracelets, and rings that are idiot-proof for gifting, ranging from $24 dice studs to $50,000 diamond earrings. Most have offerings in that sweet spot of "a couple hundred bucks"—something that says, "I want you to know that you're the cat's pajamas, but also, I'm still trying to pay off my student loans." There are the glimmering, gothy accessories of Pamela Love, the gender-neutral gems of Kinn, and the dainty, delicate chains of Catbird. Read on for the lowdown, and the best picks from each one.
Brilliant Earth
Think of Brilliant Earth as a way more affordable version of Tiffany & Co. We're talking lots of diamonds and precious metals, but nothing even a tiny bit gaudy. The site's Valentine's Day gift selection has something for everyone, from under-$100 pearl pendants to nearly 10-carat diamond earrings that cost as much as a down payment on a pretty nice house. As far as gifts go, you really can't go wrong with a delicate strand diamond necklace—especially if it's at the pretty affordable price of $150—that will look as nice poking out from the collar of an old Metallica tee as it will with wedding attire. 
Catbird
One of NYC's finest, Catbird is where hot Brooklynites go to buy jewelry that looks expensive but doesn't break the bank. There's an entire Valentine's Day selection filled with dainty and minimalist approaches to classic pieces, from heart-shaped picture lockets to the brand's best-selling diamond ring. 
Fortune and Frame
Alrighty, so your clam stash is looking a little low, but you really wanna find a way to give a meaningful piece of jewelry to your most beloved head of cabbage this V-Day. That's where Fortune and Frame comes in, with plenty of baked-Alaska-sweet options for less than a hundred bucks. Grab a letter necklace with your special soup dumpling's initial, or go for an envelope locket with a personalized message inside that can be worn or wrapped into a choker.
Goldenerre
Alright—for a piece of jewelry that doesn't read as too jewelry-like, Goldenerre's crystal-studded band for Apple Watch is the perfect level of bling for someone whose loves of tech and rhinestones are roughly equal. 
Grace Von
Grace Von's jewelry doesn't take itself too seriously, which we do appreciate in this realm. For your psychedelic partner in crime, grab an enamel mushroom charm studded with real diamonds, or go for a Gothic dropdown name pendant.
Kinn
If you're shopping for someone who likes fancy accessories but doesn't want anything crazy-femme, Kinn has an awesome selection of jewelry with a gender-neutral aesthetic, including this ribbed ring that looks like a men's watchband, or this Cuban bracelet that will glimmer up anyone's wrist. 
Mejuri
The beauty of Mejuri's jewelry isn't just in its high-quality materials; it's also in the simplicity of its designs, meaning they'll suit everyone from your sorority-girl sister to your juggalette Hinge crush. It's also a great source for grabbing your dude a Normal People-style chain.
Pamela Love
Leave it up to Pamela Love to string an 18-karat gold, ruby "seeded" pomegranate on a chain. It's the ultimate gift for sapphic lovers, fruit enthusiasts, and former English Lit majors. For everyone else, Pammy makes some sick serpentine rings and dagger earrings for the partner who just watched A24's Macbeth and is suddenly a Shakespeare expert. 
Stone and Strand
Yeah, the name kind of sounds like a new cocktail bar in Williamsburg, but Stone and Strand makes some wonderfully sparkly little necklaces, earrings, and rings that we'd like to collect in droves and use to adorn our necks, ears, and phalanges. Give us this jumbo diamond butterfly ring, and we're ready to feel like rich old ladies who drink martinis all day.
STUDS
Maybe you're shopping for a cool person you just started dating, and you love the footsie-like flirty exchange of jewelry gifting but aren't ready to drop any even semi-large wads of cash. No sweat: Grab some slick little earrings from STUDS that say, "I noticed you like pizza," "buckle up, partner," or "I think you'd be a fun person to get drunk in a casino with."
Ten Wilde
One of our favorite Black-owned brands, Ten Wilde, makes some of the best non-corny personalized jewelry out there, from name plates to necklaces that commemorate a special year of your relationship and more.  
Vrai
For those who love tiny, tiny jewelry, look no further than Vrai. The brand slings some big rocks, too—make no mistake, including collaborations with Givenchy, Balmain, and even Dover Street Market. But for a Valentine's gift that sends the message, "I'm real keen on you, but this isn't that big of a deal," this delicate diamond bracelet will do the trick.
Happy jewelry shopping, and feel free to grab some diamond studs for us while you're at it. 
---
The Rec Room staff independently selected all of the stuff featured in this story. 
https://www.vice.com/en/article/dyp4xj/best-cool-jewelry-brands