The Everygirl's product selections are curated by the editorial team. If you buy something through our links, we may earn an affiliate commission, at no cost to you. We only recommend products we genuinely love.
For Black men and women, having products made specifically for them, readily available and accessible, wasn't and—in many cases, still isn't—the norm. You might have to go to three stores in your small town to find an edge control or need to drive to a Sephora in the city to find your foundation shade. Having Black-owned beauty brands at the forefront of our minds as we're shopping is not only an important way to support those brands and founders but also to support the entire Black community.
Sephora and Ulta both participated in the 15% Pledge (vowing to place Black-owned brands on 15% of shelf space), and their catalogs have grown exponentially over the last two years with diverse brands in all categories. This has made shopping for Black-owned products, as well as products made for and by Black women, easier than ever. Amongst our other favorite brands dedicating shelf space to Black-owned brands are Target and Nordstrom. 
After years worth of testing, our editors have compiled their top favorite Black-owned beauty products—from skin to hair to makeup and more. 
Topicals
I've tried a lot of serums in my life, but this one will always have my heart because it has actually made a difference in my skin by boosting brightness (as in it gives me post-facial glow). I've struggled with acne scars and some discoloration from the sun in the past (I've had a sun mustache for years—IYKYK), and this serum makes a serious difference when I use it consistently by fading dark spots and evening skin tone. I've also noticed acne scars go away a lot quicker, and I've transitioned to a lighter foundation since I have less to cover (major win!).
Gilded Body
I'm a diehard fan of dry brushing for lymphatic drainage, exfoliation, and boosting skin glow, and the body brush by Gilded is by far the chicest one I've ever seen. Pre-Gilded life, I stored my dry brushes in drawers and would often forget to dry brush before showers (out of sight, out of mind!). The Gilded brush is so pretty (and so high-quality) that I wanted to leave it out on my counter (it makes my whole bathroom seem way more upscale), and now I never forget to dry brush because I see it all the time. It's made a huge difference in my self-care routine.
Fenty Beauty
Listen, I know what you're thinking. That is some bright ass blush. When I first saw one of my fav makeup artists (@makeupxka) use this stuff in one of her IGTVs, I can't lie—I had the same thought. But after audibly gasping at how bright yet natural the finished look was, I near ran to Sephora to pick some up for myself. If you're looking for a blush that will make you look flushed (read: alive) while still looking natural, look no further. This lightweight cream blush is the way to go.
UnSun Cosmetics
Finally, a sunscreen that doesn't leave a white cast on my face! This tinted sunscreen works for all shades and skin types, but for those with darker tones, you don't have to worry about it leaving any weird residue because the blendability on this product is top tier. I also love that this sunscreen feels super light on my face and goes on smoothly.
Pholk
For my besties with dry skin, this face wash is for you. I have searched high and low for a face wash that doesn't leave my skin feeling tight and dry after use, and it's safe to say this one has been my holy grail. The jojoba oil and aloe vera soothe my skin and leave it feeling so hydrated.
Pat McGrath Labs
The dark circles under my eyes have put me through a lot of trials and errors when it came to finding products that would work best for maximum coverage without looking too cakey. This Pat McGrath powder is the perfect final step in that routine. It's so light and blurs my skin perfectly. I'll even dust it with a small brush in the more oily parts of my face (t-zone, corners of nose, etc.). The sheer and silky formula feels comfortable and lasts all day. Pat McGrath is the queen of makeup for a reason.
Fenty Beauty
Several years ago, I saw my friend wearing what could only be described as the most gorgeous lip color I'd ever laid eyes on; it was, of course, the Fenty lipgloss. And from the moment I tried it, I knew it was holy grail status. It's a universally flattering color, isn't sticky, and can make you feel instantly put together even with nothing else on your face. This has a permanent spot on my vanity (or in my purse or on my desk—literally anywhere I am) because it really is that good.
Range Beauty
When the two main ingredients are argan oil and aloe, you know that this body glow not only looks good but is good for your skin too. This all-shade match will blend seamlessly with any skin tone and is guaranteed to give you that dewy glow Instagram craves. A little bit goes a long way, so be sure to use sparingly and enjoy! Trust me, the sun will never look so good on your skin.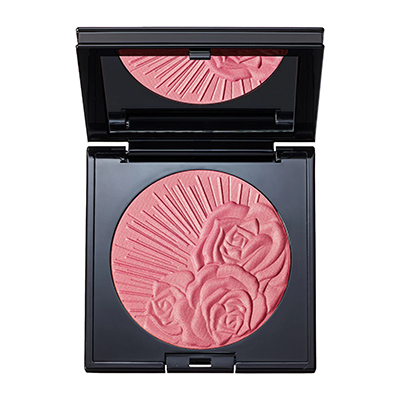 Pat McGrath Labs
When it comes to blush, there literally is nothing better than this. It's so good that I have it in three shades, and it never looks dry or cakey and lasts all day long. They're so beautiful and have a unique velvety texture that just makes your cheeks look like they have the perfect glowy flush. I'm a blush fiend, and this has become the only powder blush I ever use (and even if I'm using a cream blush, I always set them with one of these).
30+ Black-Owned Businesses to Support Now and Always
My Favorite Makeup Brands for Black Women
Editors Share: 17 Black-Owned Beauty Products We're Obsessed With