Photo by Ian Gavan/Getty Images, Neil Mockford/GC Images, George Pimentel/Getty Images and by Frazer Harrison/Getty Images for The Recording Academy
FKA twigs is one of pop's foremost innovators. In 2012, twigs emerged from London's dance scene with a genre-bending blend of art pop, trip-hop and R&B. Paired with operatic vocals and dark, minimalist production, the singer's never-heard-before sound quickly propelled her to the fore of London's music scene, garnering her a prestigious Mercury Prize nomination, among others. In addition to her musical talents, twigs' dedication to her artistic vision is near unparalleled. Already a trained dancer, twigs spent years learning the art of pole-dancing to realize the vision she had for the "Cellophane" video. In 2019, she learned wushu and sword-fighting for her "Sad Day" clip. 
Of course, fashion also plays a huge role in twigs' artistry. From LP1's GHE20G0TH1K look to Magdalene's baroque aura, each of the singer's eras is characterized by an exacting aesthetic, masterminded by twigs, herself, alongside stylist Matthew Josephs and longtime collaborators from Ed Marler to Christopher Kane. Off the stage, twigs' style is just as idiosyncratic. She's a collector of Vivienne Westwood corsets and vintage Gaultier. And she'll sport NikeLab gear just as readily as she'll slip on an Edwardian gown. With the announcement of upcoming mixtape Caprisongs, it looks like twigs will be stepping into her most eclectic era yet — both musically and sartorially. Here, we chart twigs' style evolution, from the early 2010s to today.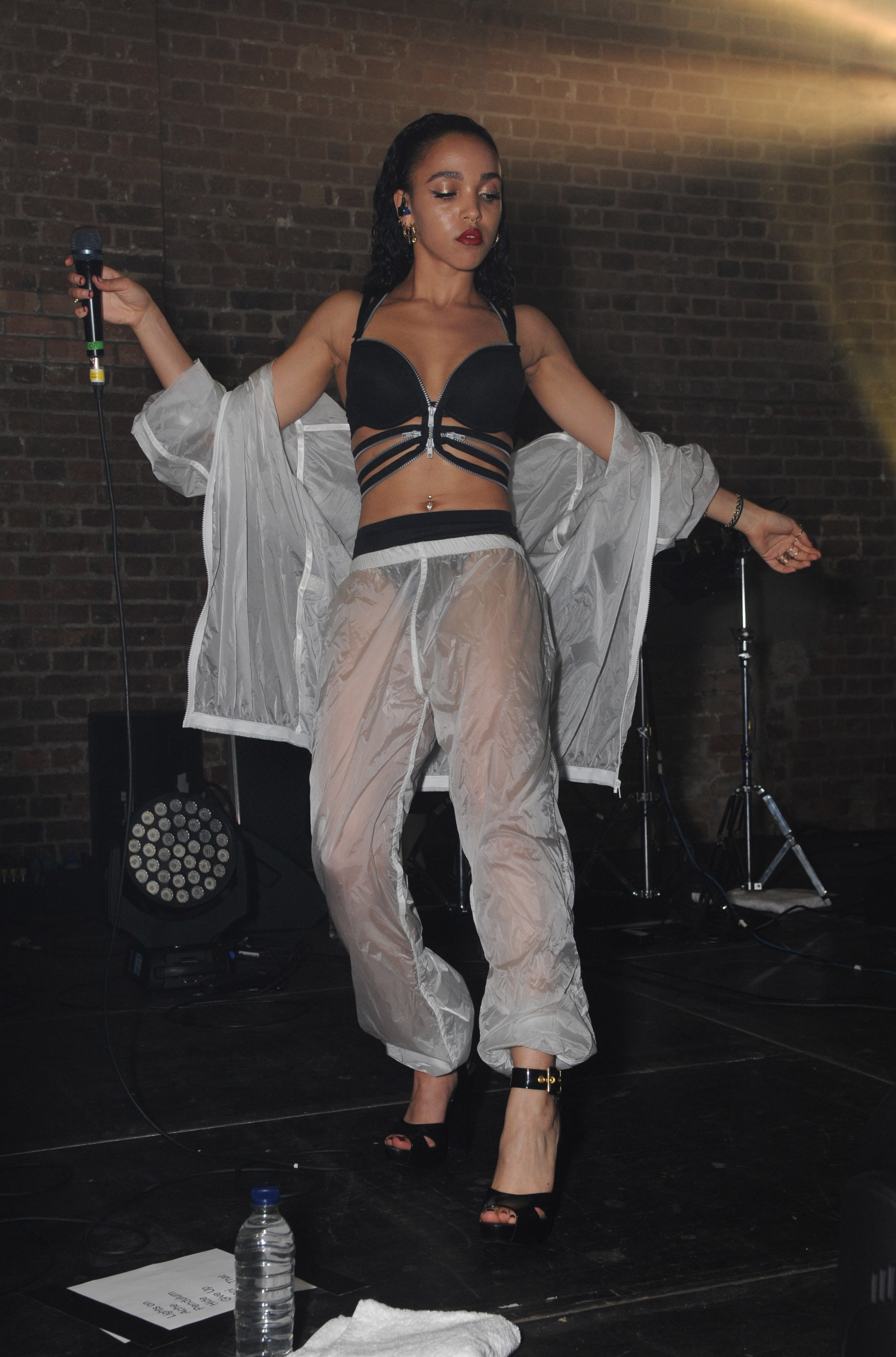 Photo by David M. Benett/Getty Images for Nike UK Ltd
Performing at the NikeLab launch, 2014
Raised on ballet and jazz music, FKA twigs moved from the borough of ​​Cheltenham to London at age 17 to study dance. There, she booked gigs dancing back-up for acts like Kylie Minogue and Jessie J, before switching her focus from dance to music. In 2012, the singer launched her first extended play, EP1, followed by her debut full-length album, LP1, in 2014. Both garnered critical acclaim for their pared-back production and ground-breaking mix of avant-garde pop, trip-hop and R&B tropes. At the time, twigs' style was as dark, minimalist and eclectic as her musical output. Riding the era's GHE20G0TH1K wave, the singer dressed in a mix-and-match of sportswear, lingerie and fetish-wear. Think slashed bodysuits, ring chokers, massive platforms and custom sets designed by Creepyeha. Here, performing at a launch party for one of her favourite brands, Nike, twigs wears a translucent tracksuit and strappy bra that perfectly embodies her early-career look.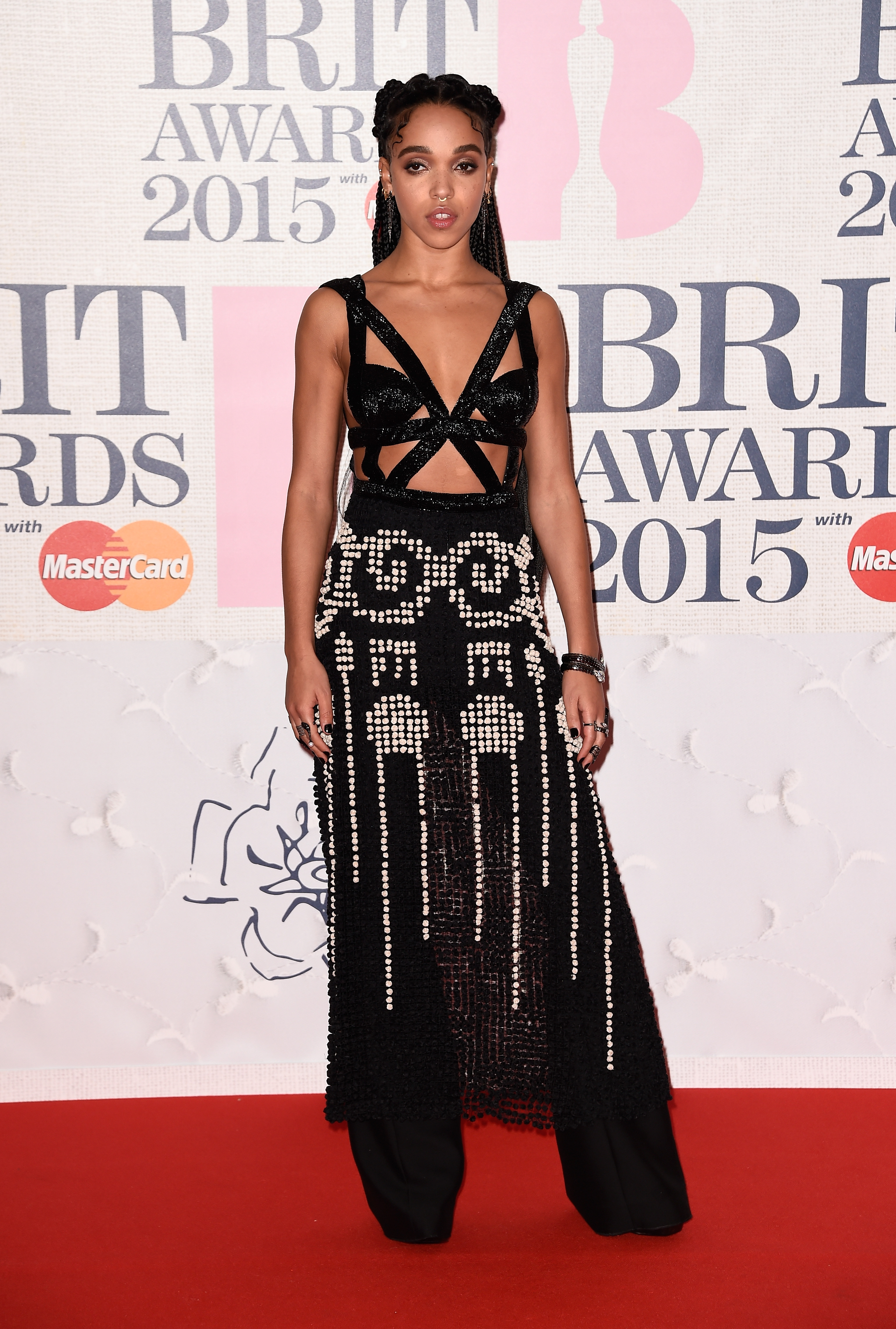 Photo by Ian Gavan/Getty Images
At the BRIT Awards, 2015
With all the critical acclaim that followed LP1, twigs brought her health goth look to the red carpet. To the Mercury Prize ceremony, the singer wore a slashed tracksuit dress and thigh-high boots. And, here, to the BRIT Awards, she donned a beaded Alexander McQueen gown that harkened to her strappy stage costumes.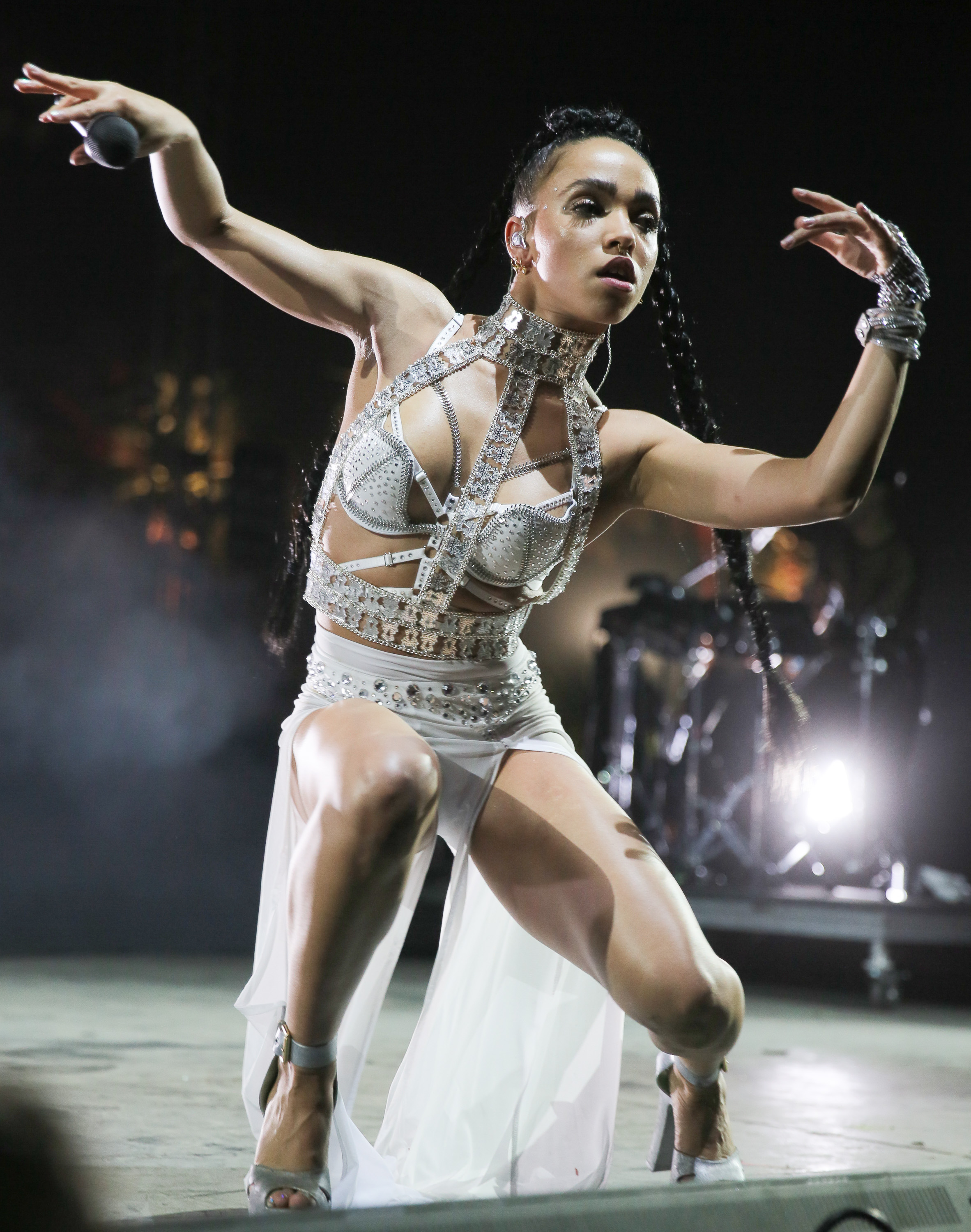 Photo by Chelsea Lauren/WireImage
At Coachella, 2015
At 2015's Coachella, twigs flipped the script on her predominantly gothic style in a series of ethereal, angelic looks, like this white, crystal-encrusted set designed by longtime collaborator Creepyeha.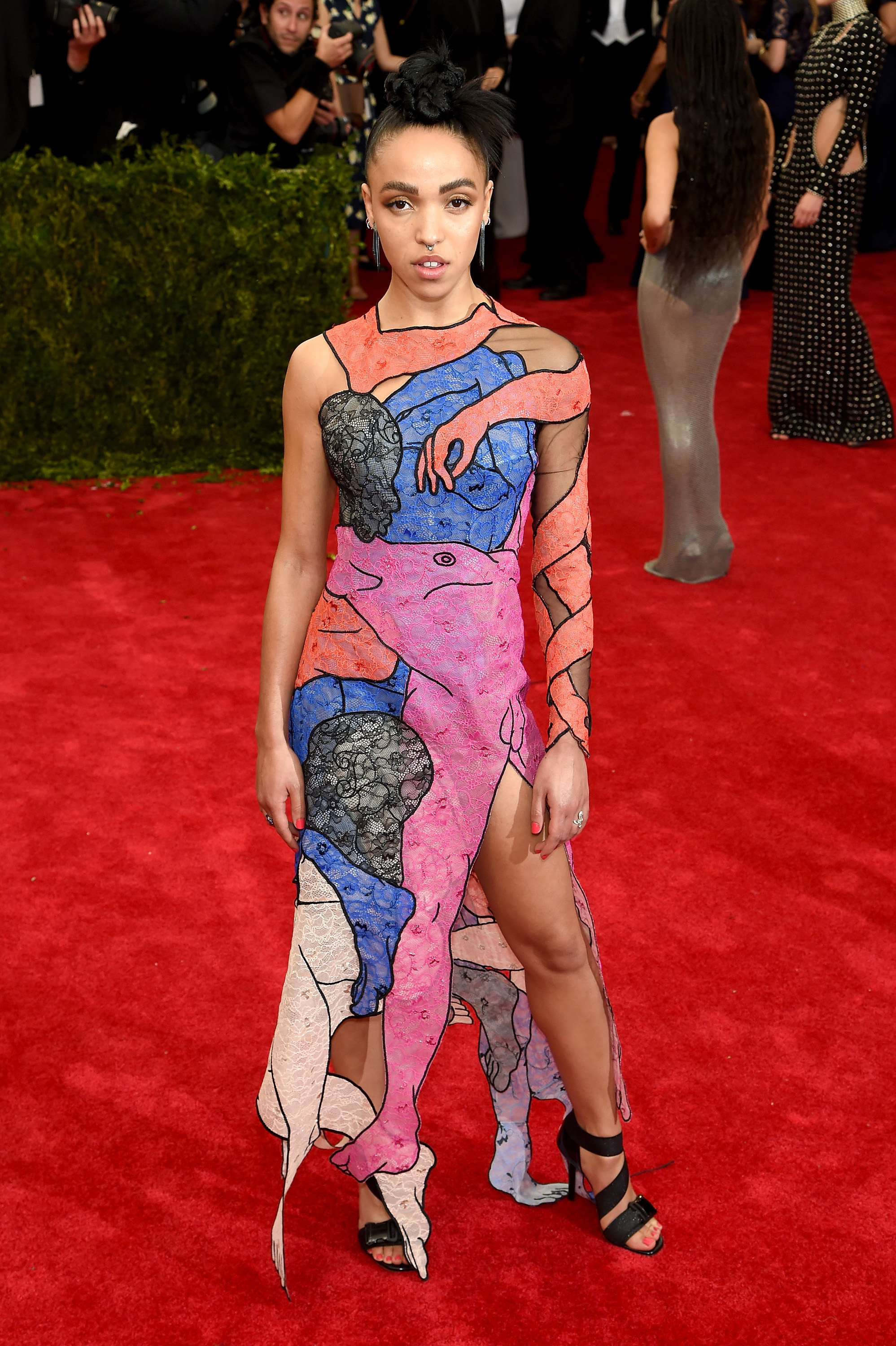 Photo by Jamie McCarthy/FilmMagic
At the Met Gala, 2015 
In 2015, twigs attended her first Met Gala in an unconventional iteration of the naked dress. Designed by Christopher Kane, the "lovers lace" gown depicted an entanglement of nude figures, genitalia and all, as media outlets clamored to point out. The dress was a viral hit and marked the beginning of twigs and Kane's friendship, and longtime collaborative relationship. Later that year, the singer wore one of the Scottish designer's SS16 looks to scoop the British Style Fashion Innovator award. And in 2017, twigs sat front row at Kane's SS18 show wearing one of his sequinned frocks.
Photo by Shirlaine Forrest/WireImage
Performing at Parklife Festival, 2015
During her 2015 festival run, twigs nixed the sportswear from her wardrobe and introduced workwear to her lingerie-leaning look with jeans, bomber jackets and this Canadian tuxedo designed by Faustine Steinmetz.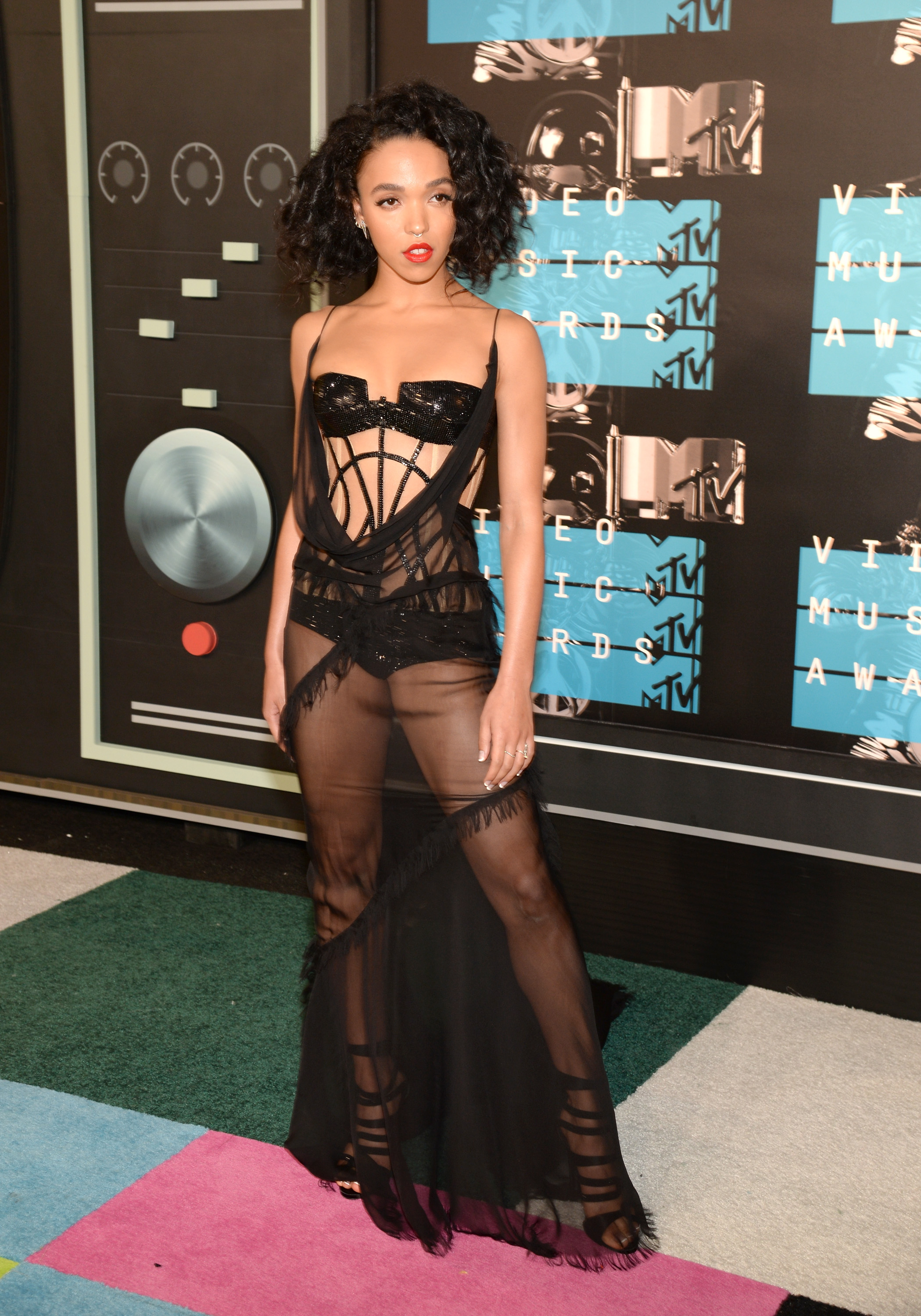 Photo by Kevin Mazur/WireImage
At the MTV VMAs, 2015
An early proponent of the lingerie-as-outerwear movement, in 2015, twigs stepped out on the VMAs infamous red carpet in what else but a spidery, corseted take on the naked dress.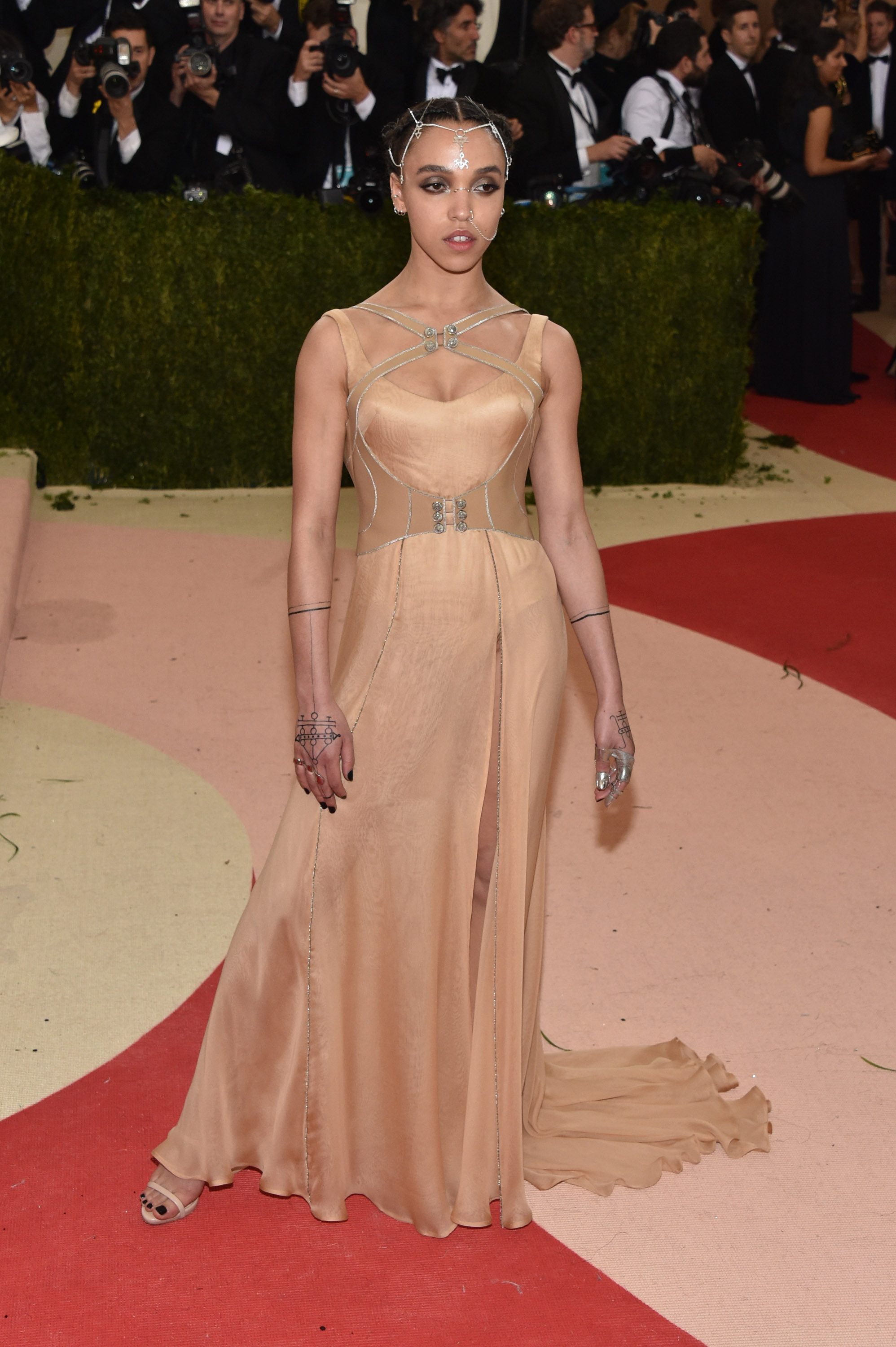 Photo by John Shearer/Getty Images
At the Met Gala, 2016
In 2016, twigs returned to the Met Gala red carpet. The year's exhibition was Manus x Machina and the singer accessorised her Versace gown appropriately with a collection of hardware and a network of temporary tattoos. Not only was the outfit very much on theme, it spoke to twigs' then-current style, a maximalist ensemble of adornments including body chains, headdresses, seashell-spangled belts and, of course, her signature septum piercing.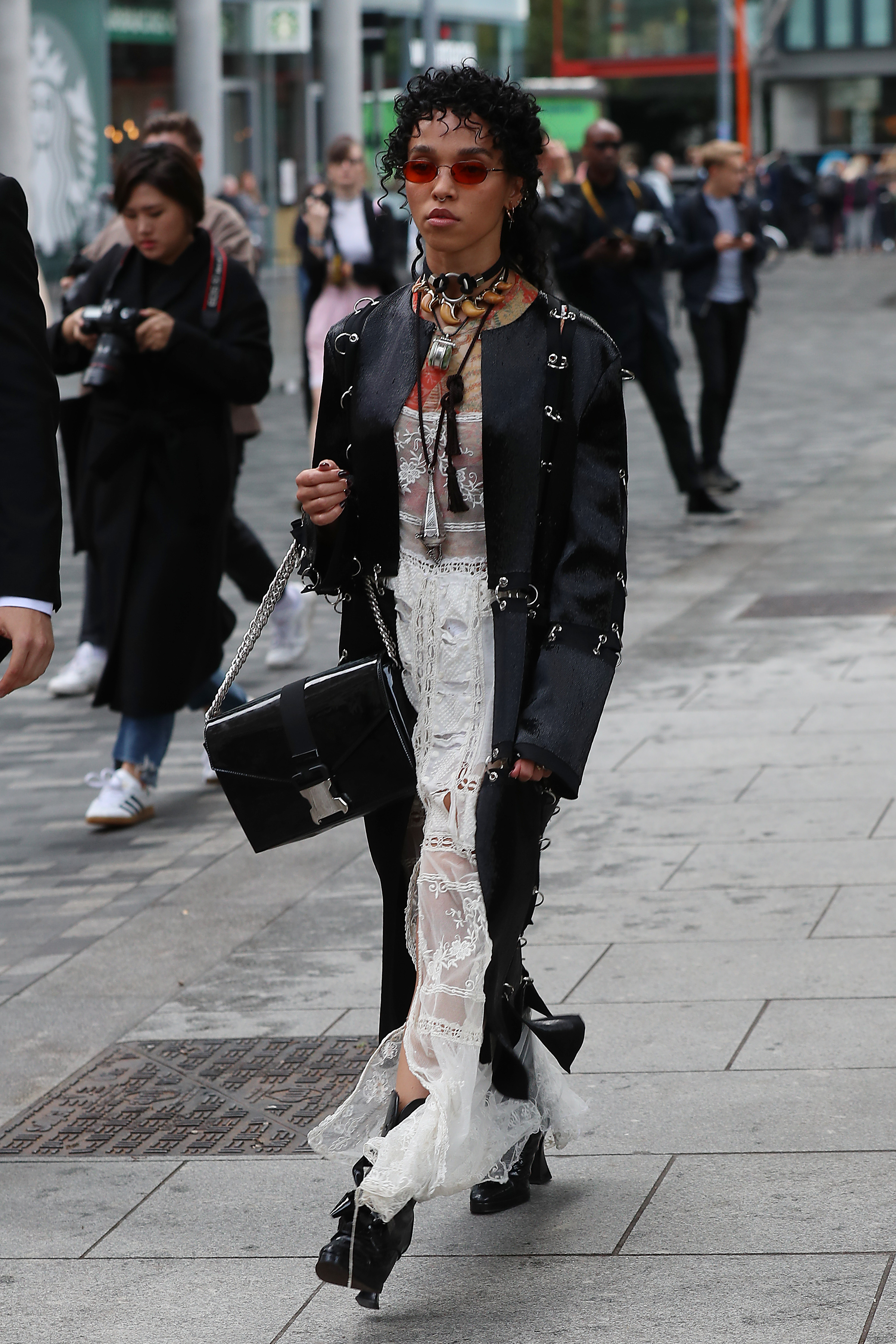 Photo by Neil Mockford/GC Images
At London Fashion Week, 2017
During the hiatus between 2016's "Good to Love" and 2019's "Cellophane," the singer took to the streets of New York and London Fashion Week, respectively, wearing a series of delightfully remixed looks, including this Edwardian-era-meets-Gaultier-meets-Matrix outfit.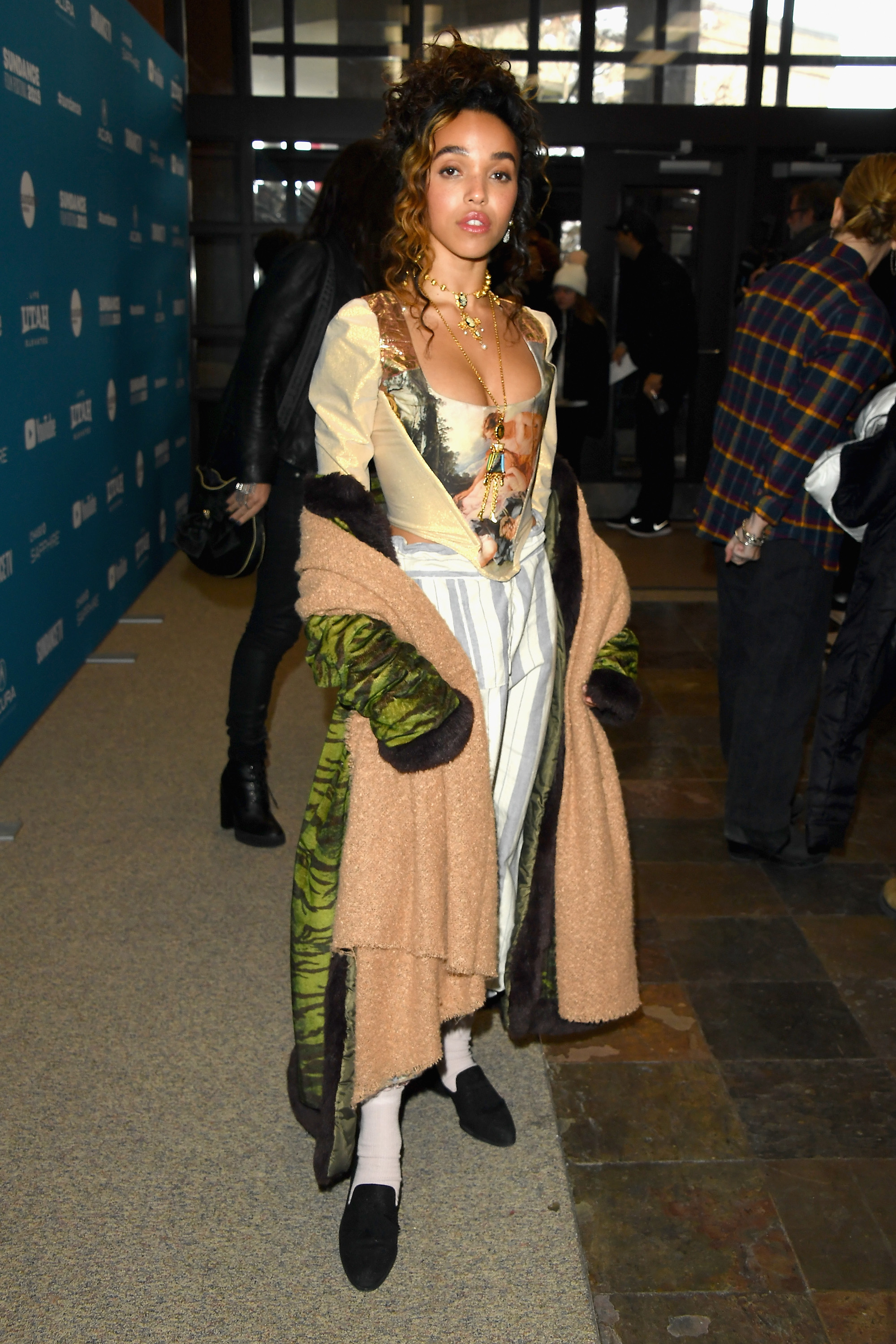 Photo by George Pimentel/Getty Images
At Sundance Film Festival, 2019
Of course, twigs was at the forefront of 2020's corset renaissance. In early 2019, the singer wore one of Vivenne Westwood's iconic François Boucher corsets to Sundance Film Festival. The look went viral on Instagram and prompted twigs to unveil the rest of her extensive Westwood corset collection in the fifth issue of her digital zine, AVANTgarden. The singer's newly corseted style offered a sneak peak into her upcoming Magdalene era, which was characterised by a "baroque and romantic" look, according to stylist Matthew Josephs. Think heaps of pearl jewelry, feathered hats, prairie dresses, bloomers and even more corsets, including a health goth iteration by Burberry.
In the "Cellophane" video, 2019
Between 2016 and 2019, twigs began learning how to pole dance, training a gruelling two hours per day to realize the vision she had for her "Cellophane" video. While she said it was "one of the hardest things [she'd] ever done," her trainer, Kelly Yvonne, praised the singer as a "pole dancing prodigy." To showcase her hard-earned pole-dancing technique, designer Ed Marler crafted twigs a custom, gilded lingerie set that reminisced the singer's early-career looks.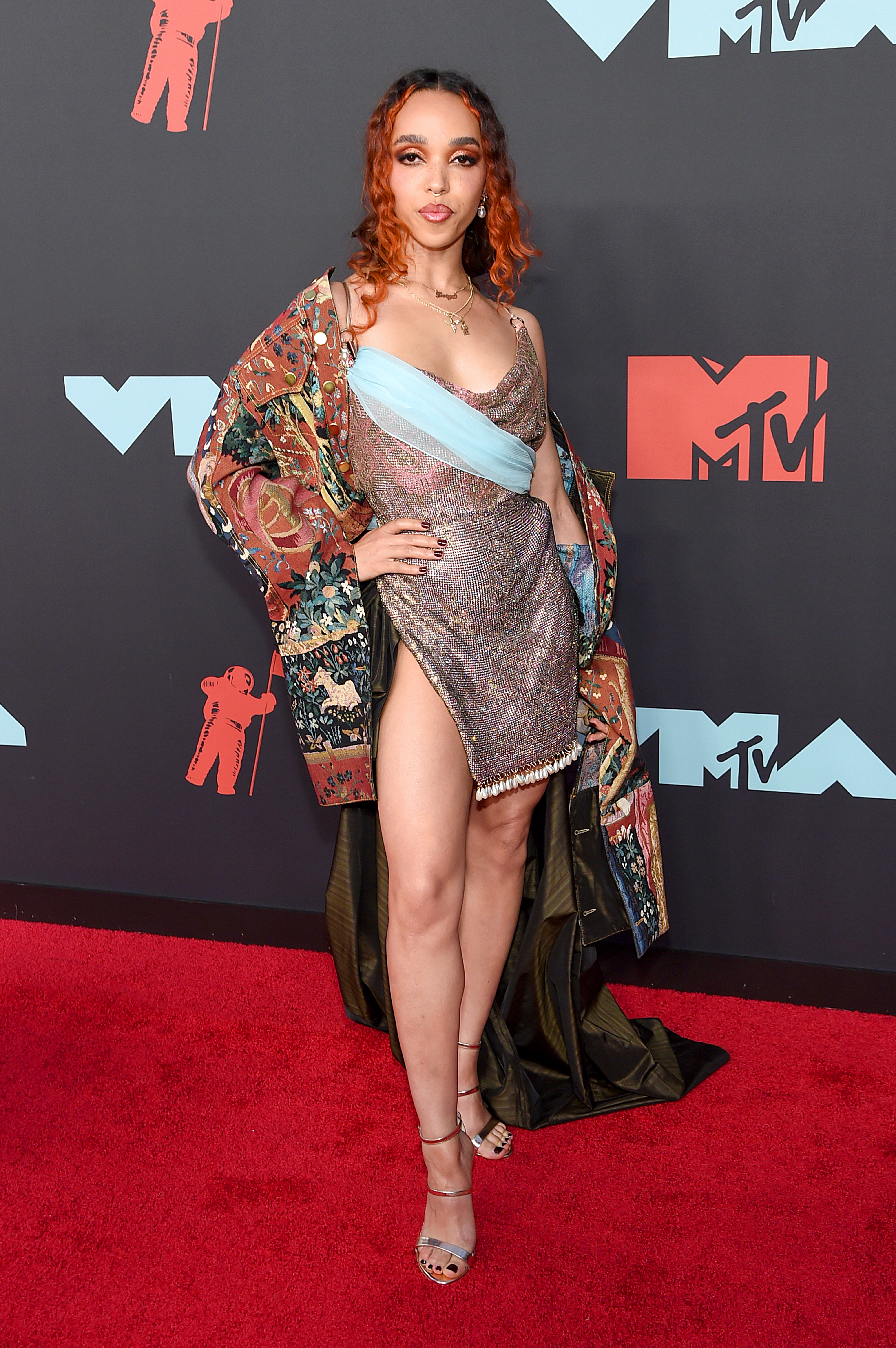 Photo by Jamie McCarthy/Getty Images for MTV
At the MTV VMAs, 2019
In 2019, twigs brought her Magdalene style to the notorious VMAs red carpet in a spectacularly glitzed-out manner. The look, also designed by Ed, featured a diamanté minidress and tapestry cape that merged Tudor era aesthetics with Y2K outfitting.
Performing on Jools Holland, 2019
Following the release of her sophomore album in early November, twigs performed on Later… with Jools Holland wearing a wetlook dress crafted by Greek designer Di Petsa. According to the designer, the wetlook series explores the idea of "female wetness" and the feminine form in its most natural states. The look captured both the "innocen[ce]" found in twigs' "Home with You" video and the divine feminine energy that runs throughout Magdalene.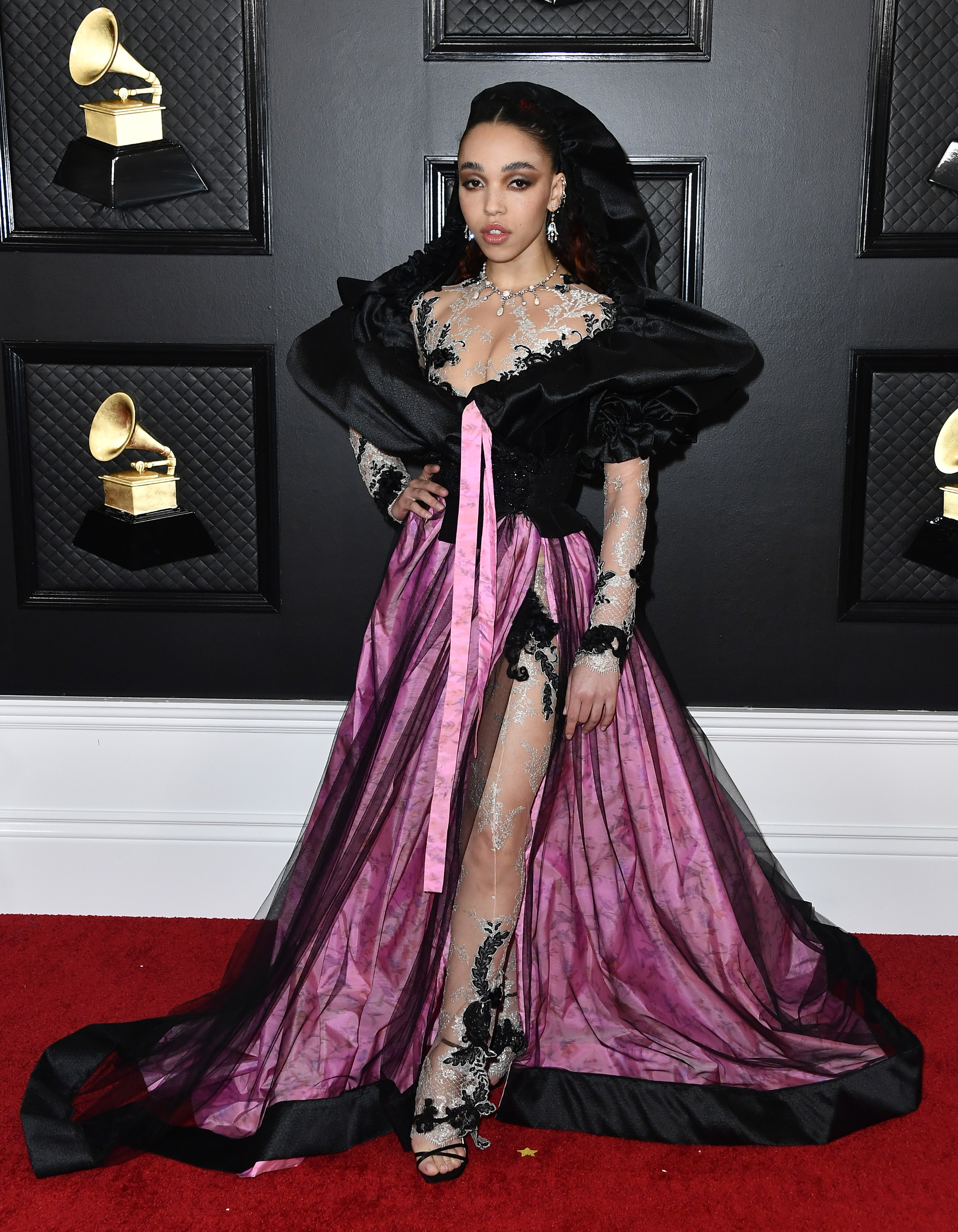 Photo by Frazer Harrison/Getty Images for The Recording Academy
At the Grammys, 2020
twigs went full baroque at the 2020 Grammys — where she was nominated for "Cellophane" — in a custom corseted gown by Ed Marler. In addition to bloomers and gilded bikinis, the singer's Magdalene style was characterised by a series of similar larger-than-life gowns, including an Aubrey Beardsley-inspired dress worn to perform on Fallon and that crystalline Valentino number worn to the house's FW20 show.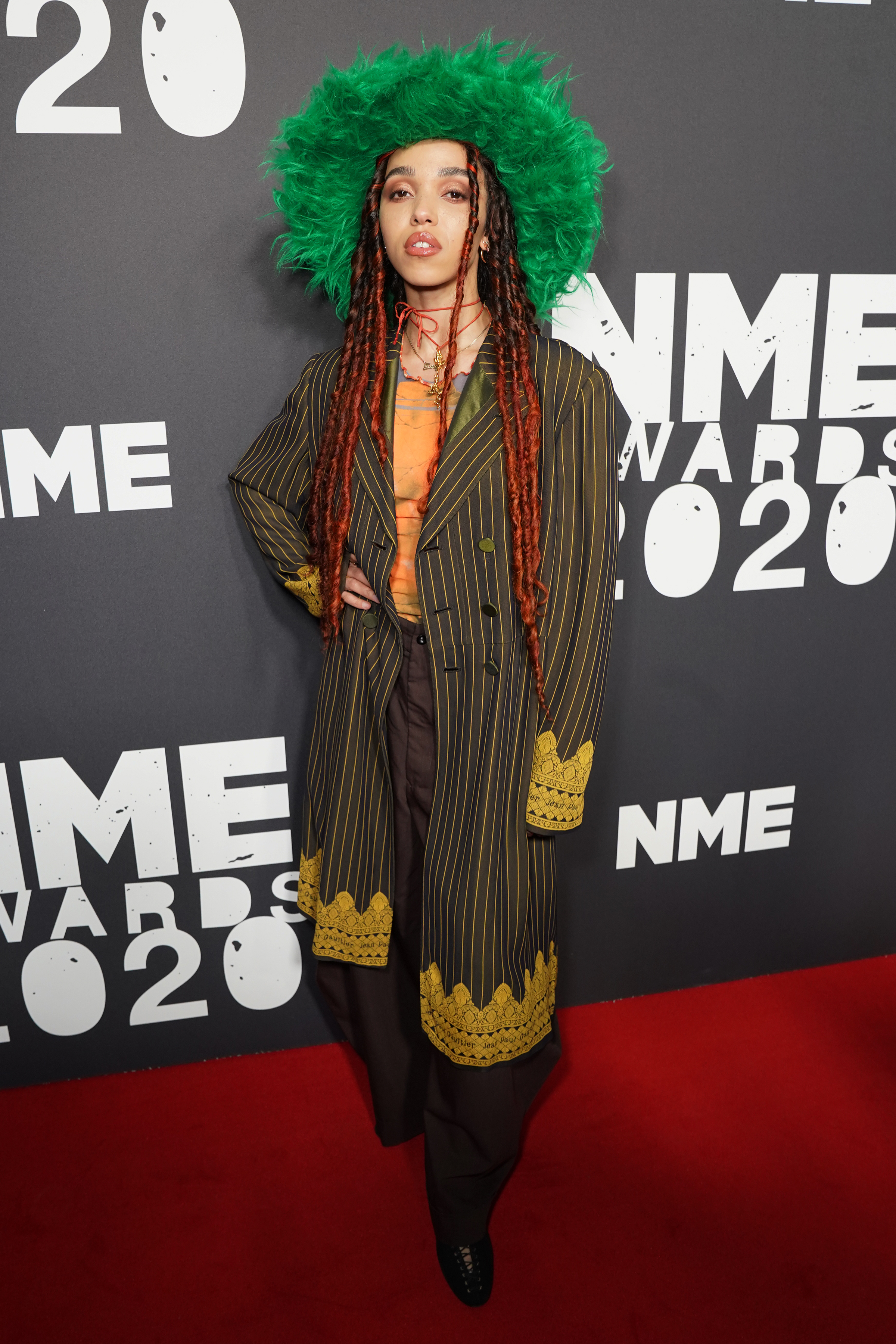 Photo by Neil P. Mockford/Getty Images
At the NME Awards, 2020
In 2020, twigs dipped her toe in the Y2K pond with this NME Awards outfit. The singer topped off her favoured Edwardian-Gaultier look with a big, fuzzy hat, recalling Pamela Anderson's iconic 1999 VMAs moment.
Photo by Samir Hussein/WireImage
At the premiere of King's Man, 2021
Following her NME Awards appearance, twigs dove headfirst into 2021's Y2K trend in sporty pink and lime green, club-ready numbers by Ottolinger and Supriya Lele, archive Roberto Cavalli and this hooded jersey dress that called back to 00s Kylie Minogue.
Teasing her new mixtape, Caprisongs, 2022
If her recent social media activity is any indication, it seems twigs' upcoming Caprisongs era will be her most eclectic yet. Musically, we've already been given a snippet of an upcoming reggaeton song and a tracklist of diverse collaborators from Shygirl to The Weeknd. And the accompanying outfits have been just as disparate: angora sweaters paired with hoop skirts and plaid kilts with cloud tops. Looks like twigs is continuing to live up to her title as pop music's foremost fashion innovator.
Follow i-D on Instagram and TikTok for more style evolution.

https://i-d.vice.com/en_uk/article/dypdgv/fka-twigs-style