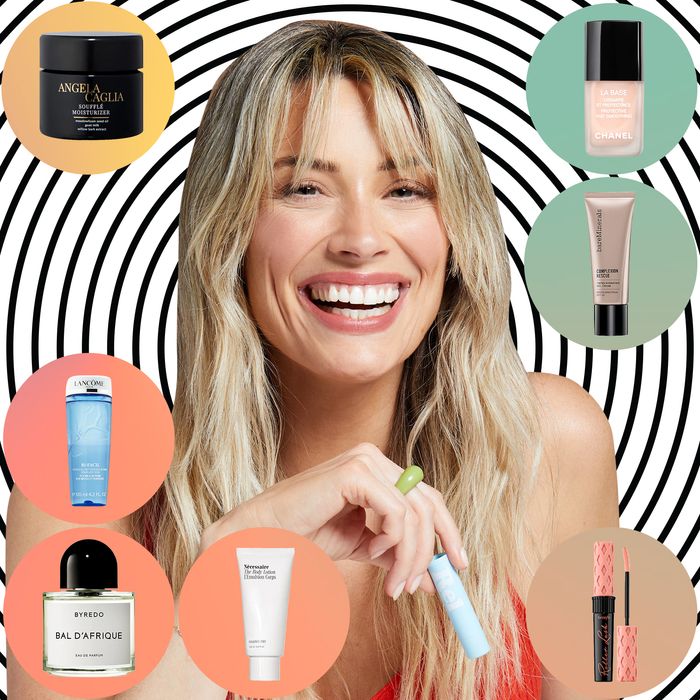 Photo-Illustration: by The Cut; Photos: Courtesy of Arielle Vandenberg, Retailers
On the Beauty Group, a Facebook community co-founded by the Cut and the Strategist, people chat all day long about the products they love — the ones so good they'll make you hit that little "auto-refill" box at checkout. Below, we asked one of our favorite beauty pros to share her selections.
Arielle Vandenberg and I went on the hunt for the perfect lip balm — with one major difference. When I couldn't find one that actually hydrated my lips, didn't disappear after a few minutes, and didn't make my lips dependent on it, I gave up. When the Love Island host tried what felt like every chapstick on the market and came out of the search unsatisfied, she made her own brand called Rel Beauty.
"I was having a hard time finding the combination of the right color payoff and good ingredients," Vandenberg says of her ideal lip balm. "I would either find great color but the product would dry my lips out or I would find a chapstick with great ingredients but then the color was crap."
The No Duh Lip Balm — the brand's first (and currently only) offering — comes in six sheer shades: Obviously (a clear), Totally (a pink), Frick Yes (a nude), For Sure (a cherry), Most Definitely (a coral), and Absolutely (a mocha). The colors are buildable, so you can go for a subtle wash of color or something more saturated, and they're vegan, cruelty free, and made with natural ingredients (like vegan beeswax and shea butter). And of course, she says, "My lips are moisturized all day. Score!"
Below, the TV host shares more of the products she never goes without including the eye-makeup remover she's used since middle school, her signature perfume, and the mascara she takes everywhere.
"I've been using this since junior high. My mom introduced me to it, and I will never use any other eye-makeup remover. I did ballet growing up, and I wore a ton of makeup for recitals, and it was always so good at getting off fake eyelashes and glitter. It just melts makeup."
"This mascara is so important to me that I won't let other people put other mascaras on me. I bring it to shoots — I take it everywhere with me — and if a makeup artist tries to put another mascara on me, I'm like, 'Hold on. I have my mascara.' I pull it out, and they're like, 'Whoa!' But it just lengthens my eyelashes so well, and I'm obsessed with curling my eyelashes, and this gives me some of that without actually using a curler. Plus anyone I've introduced to this mascara is always like, 'Wait, how have I never used this?'"
"Frick Yes is my favorite Rel Beauty lip balm color. My natural lip color isn't my most favorite part of my face. [Laughs] It's not the worst thing ever, but I want to enhance my own lip color without it looking like I have lipstick or even a color on. What I love about this shade is that it is just my lip color but elevated."
"This polish is actually just a base coat, so normally you would use this and then apply a color on top, but I wear the base alone. It leaves a nice shine — like the most subtle, sheer, natural, pinky color. It makes your nails look so healthy. I love it."
"There's something very special about this brand; I've tried all of their products, and they're all incredible. And I know they're expensive, but they are worth every penny. I have really sensitive under eyes, and I hadn't found an eye cream that didn't irritate me until I found this one. It goes on so smoothly too. I've been using it for maybe a year and a half, and I'm on my third jar. I literally scrape the bottom of the container with a Q-tip to get the very last drops of it. I'm obsessed."
"This has been my favorite moisturizer for the past five years. I first got it at Violet Grey, and since then, my skin has never been happier. I use it both morning and night. The soufflé descriptor means that it's so light. It's actually great for my under eyes, too, so if I'm going somewhere for a short trip and I don't want to bring all of my products, I just take this one moisturizer with me."
"I won't use any other body lotion. Well, I ran out of it the other day, and I had to use my fiancé's Lubriderm, and I was so pissed. I mean, Lubriderm is not that bad, but my Nécessaire does such a good job moisturizing. It's also a pretty decent price point since it has vitamins (like niacinamide) in it. The brand also has beautiful packaging."
"After I get out of the shower, I spray my hair with this like there's no tomorrow. I'll have dripping wet hair, and I put it everywhere and shake it around. Then when you let your hair air-dry, it has these perfect, natural waves — if your hair has that ability."
"I'm obsessed with curling my lashes. I put on my Rel lip balm because that gives my face some color, I curl my lashes, and I'm out the door — those are the two things that I have to do. I'm just obsessed with this one from Shu Uemura."
"This is so random, but I bought Bal d'Afrique for my ex-boyfriend's mom for Christmas maybe seven or eight years ago. I hugged her when she was wearing it, and I was like, Oh my God. So I bought it for myself. Now I just smell like my ex's mom all the time. It's freaking weird, but it's such a unique and beautiful scent; it kind of smells like a hot guy in high school. [Laughs] I love when you smell someone and you know that's their scent, and I don't know a lot of people — besides my ex's mom — that wear it. I like to joke that I gave it to her so I can claim it."
"This is called a tinted hydrating gel, but it's basically like a tinted moisturizer. It has SPF in it, which I love because you can easily put it on with a Beautyblender. I have three different colors that I mix and match — like if I need to be a little tanner for the show or something — but the one that I use every day is shade Bamboo 5.5. Honestly, I'm such a minimal makeup person, and this is a staple because it's not intimidating."
https://www.thecut.com/2021/12/love-island-usa-arielle-vandenberg-rel-beauty.html