By Natalia Parzygnat
Szymon Czyż, a 22-year-old engineer, waited for two hours for his favourite local second-hand shop to open on the day of the new clothes delivery. That is when treasure hunters like him sprint to find trendy, good-quality used clothing, pushing each other and occasionally even stealing baskets or taking each other's finds.
Such second-hand clothes stores have been dying out in Polish towns and cities: there were 39% fewer operating in the country in July 2021 than there were in 2009. Yet despite this trend, the market in used clothes is thriving, as it increasingly moves online and upmarket, catering to a more fashion- and environment-conscious young clientele like Czyż.
"Recent data show that the second-hand clothing market is growing faster than the market for new clothing," says Agnieszka Wąsowska of Fashion Revolution Poland, a fashion activist group.
That trend was outlined in a recent report by Accenture on consumer choices, which found that 44% of Poles first look for second-hand items when they need clothes, shoes or accessories. Even though more than a half of respondents still prefer going to a pre-owned shop in person, more and more are doing so on social media and in online marketplaces, a change accelerated by the pandemic.
Second-hand, second-rate
The negative connotations that linger around second-hand shops in Poland are shown by some of the words used to describe them: lumpeks, ciucholand, or szmateks, meaning something like "rag shop" or "togs land". Lumpeks is particularly popular, derived from a mixture of the German word lumpen, meaning rags, and giving rise to the term lumpowanie, referring to the practice of purchasing and recycling used clothing.
Such stores, selling used clothes by weight, first appeared in Poland during the communist era, when they offered imported clothing that was too expensive for most Poles to buy first-hand. By the 1990s, the shops had come to be seen as overcrowded, unpleasant and for the less well off.
"Because mostly the poor people were buying there, others didn't want to go," says Wąsowska. "They didn't want to be seen in those places. People bought clothes in second-hand stores because they couldn't afford to buy them [first hand]."
Poland's increasing prosperity and changing consumer habits have resulted in a steady stream of closures for such second-hand stores. There were 23,500 operating in 2009, but that figure has decreased every year since then, reaching a low of 14,400 in 2021, Tomasz Starzyk from Dun & Bradstreet, a commercial data company, told Notes from Poland.
A new shopping model
Despite these closures, the second-hand market in Poland remains strong, worth around 5-6 billion zloty a year, according to 2019 data from Statistics Poland (GUS), the government statistical agency, cited by the Rzeczpospolita daily. Some 10 million Poles, more than a quarter of the population, say they buy used clothes, reported the newspaper.
Many of them are doing so from online sources, and the impact of the pandemic has hastened a change in habits. Nearly half of Poles had used apps and websites to purchase things from and sell things to other users in the last six months, found an SW Research poll for Accenture in October 2020.
Another survey last year by the same agency, on behalf of second-hand store chain Wtórpol, found that 28% said they bought used clothing online more often than before the pandemic.
Polish firm repairs and donates 15,000 pairs of used shoes for homeless people
This "has contributed to the growth and attractiveness of the second-hand shop's offerings", says Agnieszka Oleksyn-Wajda, director of the Institute of Sustainable Development at Lazarski University in Warsaw, allowing them to buy from the comfort of their homes without hunting for products on the hanger.
Green shopping
Poles' attitude towards pre-owned clothes has also evolved. In the 1990s, people chose second-hand shops for economic reasons, as a place to find "branded clothing at a reasonable price", explains Starzyk. At that time there was also a relative paucity of fashion shops offering such brands, he adds.
But with Poles now on average much better off than in the 1990s, and with a much wider range of products available to them, environmental concerns play an increasing role in driving the demand for second-hand products.
Accenture's polling data show that 20% of respondents buy pre-owned clothes for environmental reasons, and a report by KPMH found that 27% of Poles say they are willing to pay more for environmentally friendly clothes.
Youth climate strikes hit the streets of Poland
"Education about ecology, circular fashion, sustainability, environment friendliness has removed a patch of 'shame' from the purchase of second-hand clothing," says Oleksyn-Wajda.
This trend is also forcing big brands to rethink their strategies. This year Polish clothing company 4F launched a collaboration with Ubrania do Oddania (Clothes to Give Away), an organisation that "enable clothing brands to be more circular". 4F has also started renting ski clothes to prevent additional textile waste.
The modern second-hand shopper
Another factor in the transformation of second-hand clothing in Poland has been a move upmarket, towards the "resale of unique premium clothing", says Rafał Reif, Head of fashion and retail for Poland at Accenture. "The primary motivator for buying is a brand or a unique limited product available for an attractive price."
In addition to the previous cheap-and-cheerful second-hand shops, consumers can now find posh boutiques with pre-owned clothes that cost more than in fast-fashion stores and vintage shops with pre-selected clothes, explains Wąsowska.
Fashion-conscious Czyż says that such pre-owned clothes "predominate" in his wardrobe. He believes they are of better quality than those sold by big brands and are cheaper than designer garments.
Before landing his current full-time job, he used to go to the second-hand shop three times a week, finding designer bargains that he then sold "for a good profit", he tells Notes from Poland. He mentions a 10-year-old Stone Island jacket worth around 2,000 zloty which he bought in a vintage shop for 1% of its value, 20 zloty, and sold on to a second-hand connoisseur for 350 zloty.
"You can live off making money by selling second-hand finds," Czyż says.
Trends and influencers
Such upmarket second-hand clothing helps feed a desire – especially strong among young women – to stand out from the crowd by having original items, says Starzyk. According to Accenture's polling data, a quarter of Poles aged under 25 think of how clothes will look on social media when shopping.
Polish social media are also full of influencers offering advice on finding and using vintage items, such as Mateusz Leszczyński, whose "Lumpfinds" is followed by over 320,000 people on TikTok and 82,000 on Instagram.
"Lumpeks"-related TikTok videos have been watched 286.4 million times, including 31.4 million views of "Lumpeks check" videos with shop recommendations. There are dozens of Facebook groups dedicated to fans of pre-owned shops where they can exchange clothes.
The future of pre-owned clothes shops
Despite the drop in the number of stores and the move to online shopping, Starzyk notes that the number of closures have begun to fall and predicts "stable demand and stable sales".
Oleksyn-Wajda believes that vintage clothes stores will "take on new forms and non-obvious locations". The first circular boutiques, providing education on circular fashion, are already being opened in shopping malls in Poland, where people can leave their unwanted clothing. She suggests that the market will grow further.
"Because the zero-waste idea is something more," she says. "It's a lifestyle. State of mind. Fashion at its best."
Free clothes "shop" for Ukrainian refugees opens in disused Polish mall
Main image credit: Mikolaj Kuras / Agencja Gazeta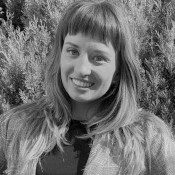 Natalia Parzygnat is a contributing editorial assistant at Notes from Poland and a graduate in Multiplatform Mobile Journalism from Birmingham City University. She has previously written articles for Birmingham Eastside and featured in HuffPost UK. Natalia is a recent BJTC Award Runner Up in Social Short Video category.

https://notesfrompoland.com/2022/04/24/second-hand-shopping-gets-a-new-lease-of-life-in-poland/