Fall is finally here, which means its cooler cousin winter is right around the corner. And while the season can usher in autumnal vibes like apple-picking, pumpkin-spice everything, and trendy knitwear fashion, it can also act as an obstacle when it comes to achieving a lit-from-within glow. Whereas warmer climates amplify one's melanin drip, cooler climates can zap all of that moisture instantly if you're not careful.
The fall and winter seasons tend to signify a slight shift in our beauty routines where moisture reigns supreme. But instead of your skin-care mantra being "moisturize, moisturize, moisturize," it should actually be "hydrate, hydrate, hydrate," as your beauty routines should add hydration first and then lock in moisture. You see, in colder seasons, the name of the game is making moves to preserve one's glow. But what are the best products to improve your skin's luminosity when the temperature drops?
We spoke to Black women in the industry known for their out-of-this-world glow about the routines and beauty products that keep their skin lit, no matter the season.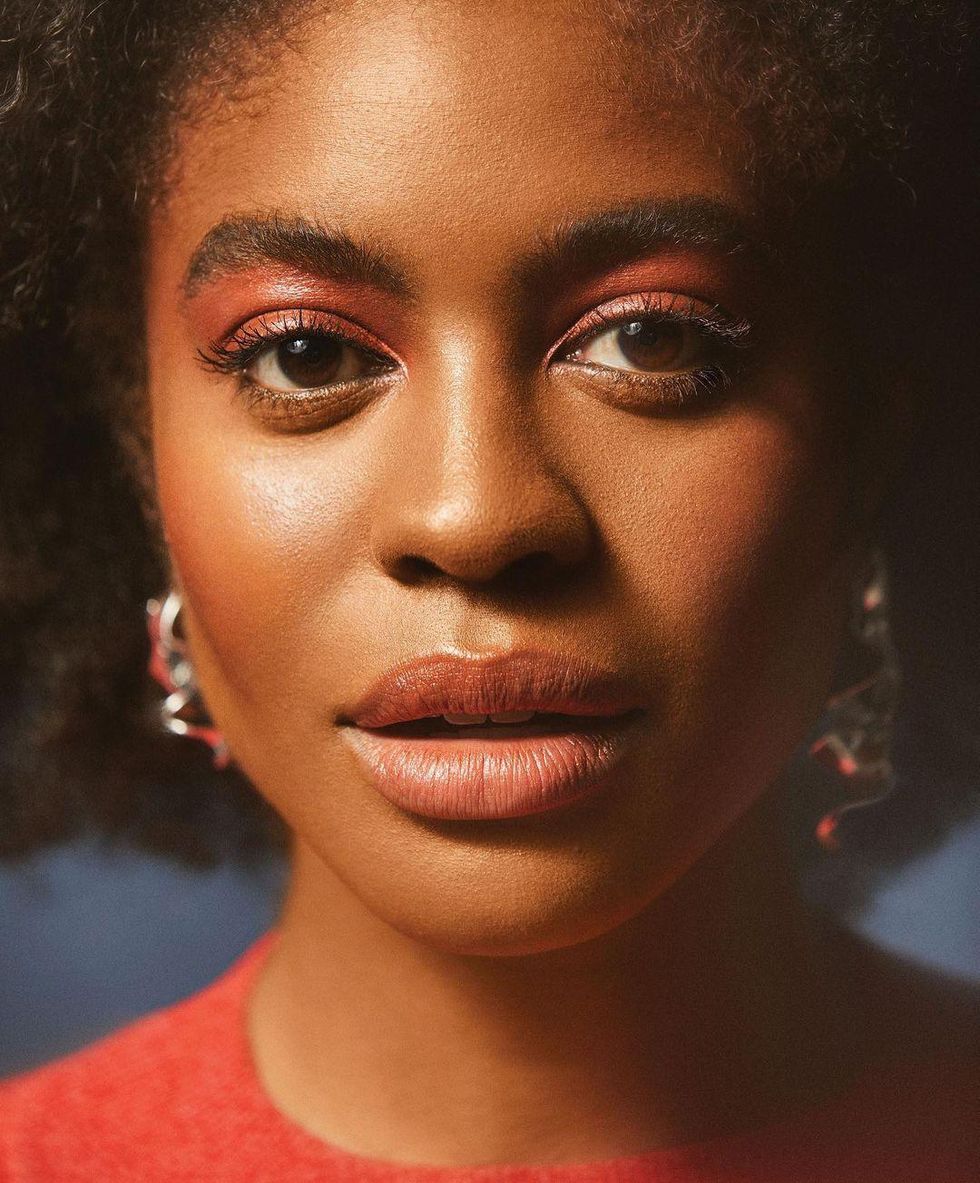 Photo: Courtesy of Maya Allen
The elements of her glow:

"From a very young age, my mother taught me that true beauty radiates from the inside out. And the same applies to securing a glow. I feel the most glowed-up when I'm eating nourishing foods, intentionally moving my body, getting a good night's rest, setting boundaries, meditating, and choosing myself in every moment."
Her morning beauty routine for the fall/winter months:

"The first beauty ritual I do in the morning is drink a tall glass of room temperature lemon water to kick-start my digestive system and start my hydration process from the inside. Then, I rinse my face with warm water. I don't cleanse my skin every morning, only if I feel like my skin needs it. On those mornings, I use a lightweight cleanser like iS Clinical Cleansing Gel. Next, I tone with Renée Rouleau's Moisture Infusion Toner—my skin drinks this stuff right up and feels soft for hours on end. I apply this toner with her brand's cotton pads, which gently exfoliate.
"Then, I apply Dr. Barbara Sturm's Vitamin C Serum to help brighten my dark spots and fade hyperpigmentation. Afterward, I lock in even more hydration with Dr. Barbara Sturm's Moisturizer for Dark Skin Tones. Although it's rich with feel-good ingredients, the texture isn't too heavy and the formula doesn't suffocate my oily, acne-prone skin. Then, I apply a dime-size amount of Black Girl Sunscreen for SPF protection."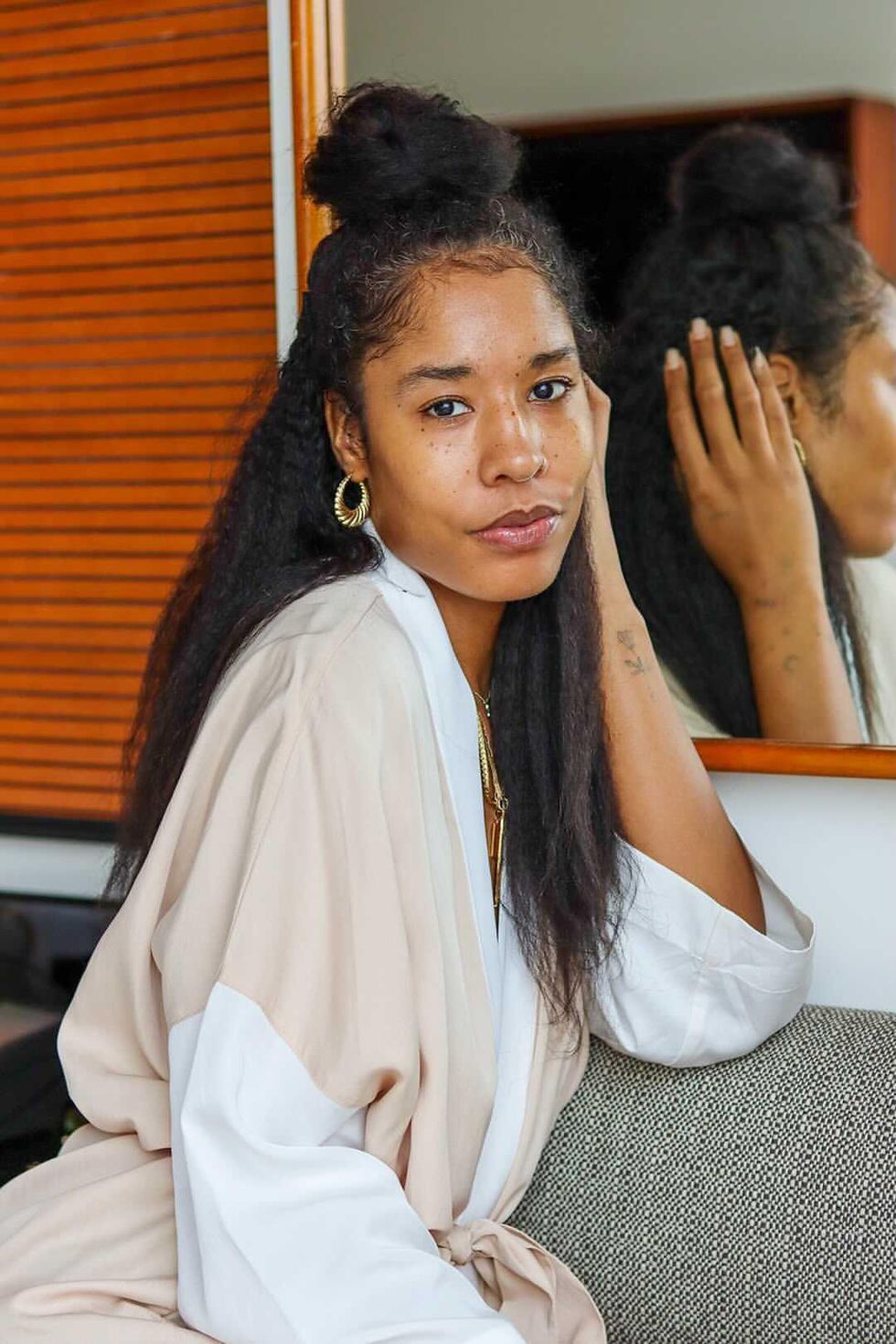 Photo: Courtesy of Vic Styles
The elements of her glow:

"I approach skin care in a holistic way—it has to do with our mind, body, and spirit. Our skin is a direct reflection of our lives. It's a tell-all; if we are eating a lot of dairy, processed foods, if we have any hormonal imbalances, stress levels, how much sleep we get, etc. I try to focus on resolving any internal issues before relying on skin-care products. They can only enhance whatever you're doing internally."
Her morning beauty routine for the fall/winter months:

"Because I believe that our skin is a direct reflection of our lifestyle choices, yoga, meditation, and journaling are keys to my morning routine. They allow me to check in with myself, lower my stress levels, and get the blood circulating. I do a Manuka honey mask daily with Activist manuka. I don't typically wash my face in the morning; I do a quick rinse in the shower and then I swipe on micellar water once I'm out. I really love Rael's Cleansing Water.
"My go-to toner is from PurpL & Prosper. Then, I use fresh aloe. I cut off a piece of the plant and rub it onto my skin. In the winter months, I love using hyaluronic acid and vitamin C serums. My current face cream is Neutrogena Hydro Boost Gel-Cream, which has hyaluronic acid to help lock in moisture. Lately, I've been using the rosehip oil from Trilogy and loving it. My favorite [SPF] is SuperGoop Glowscreen. I typically use a face roller in the mornings to increase circulation and because it feels amazing. I love the ones from Jenny Patinkin. Because I prefer to be makeup-free most days, I use OPTE as my last step."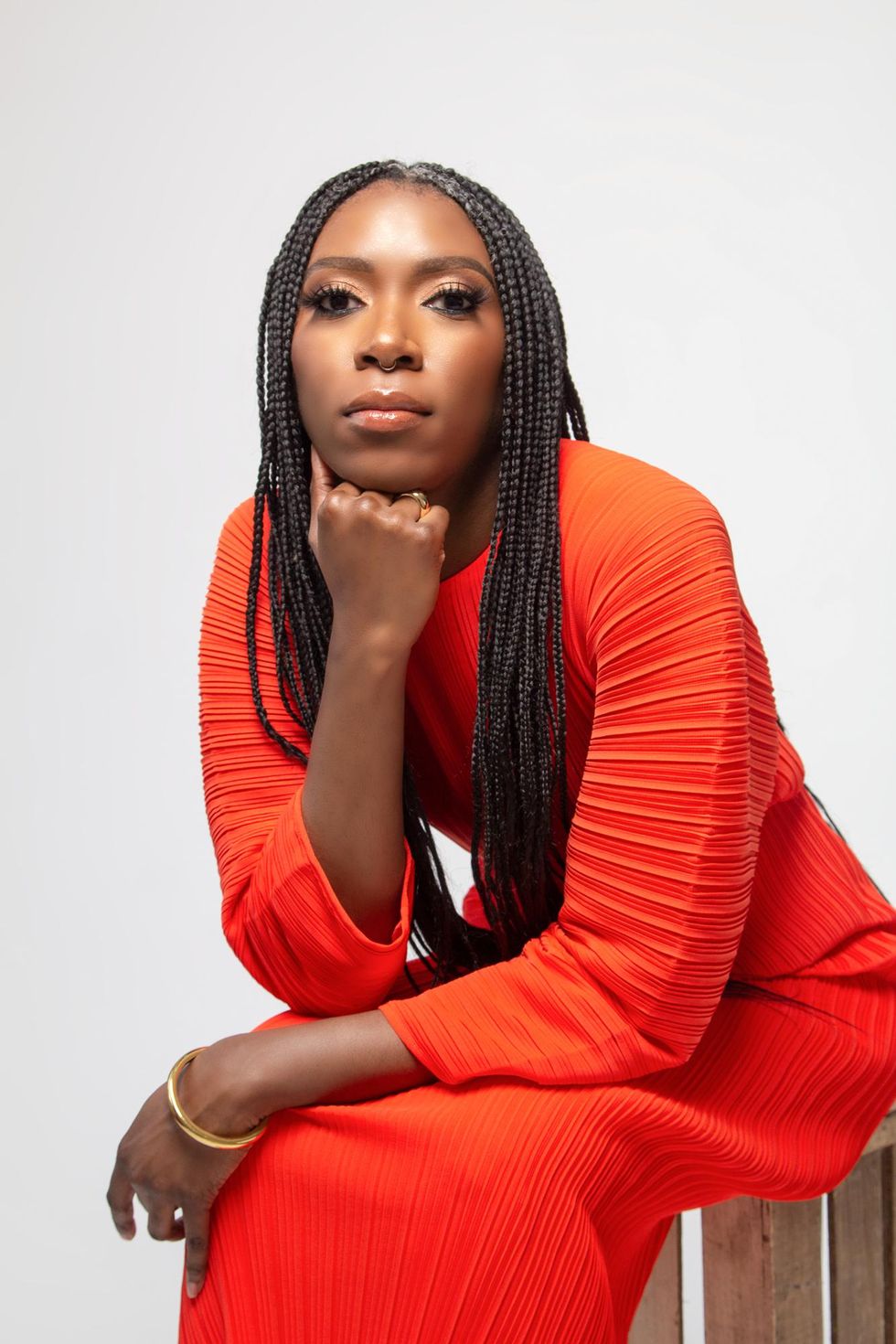 Photo: Sarah-Elizabeth Photography
The elements of her glow:

"I like to keep things simple by using beauty and skin-care products that work best for my unique needs and wants, not being quick to follow what's hyped on Instagram, getting expert care by licensed estheticians and dermatologists who are Black women, drinking plenty of water and eating a plant-based diet, minimizing stress and worry and, of course, minding my business."
Her morning beauty routine for the fall/winter months:

"I have normal to dry, sensitive skin, so I like to start off with a creamy cleanser like LaRoche-Posay Toleriane Hydrating Gentle Facial Cleanser. No matter the time of year, I make sure to follow the 60-second cleansing method popularized by Nayamka Roberts-Smith of LABeautyologist and then I wipe my face clean using a damp Clean Skin Towel. Next, I gently pat Glow Recipe Watermelon Glow PHA + BHA Pore-Tight Toner or SK-II Facial Treatment Essence into my skin. If I'm experiencing any random breakouts from hormonal changes or maskne, I'll reach for either Hyper Skin Hyper Clear (ed. note: now called Hyper Even) or Naturium Azelaic Topical Acid 10% to tackle dark spots and hyperpigmentation.
"Next, I will use a facial mist such as Caudalíe Beauty Elixir. I'm a huge advocate for eye creams so I rotate products based on my needs—my favorites include Ole Henriksen Banana Bright Eye Crème, Youth to the People Dream Eye Cream, and Bobbi Brown Hydrating Eye Cream. My skin-care routine isn't complete until I've applied my sunscreen. I've actually enjoyed using my son's Black Girl Sunscreen Kids SPF 50 lately because it has more of a velvet finish. And I can't forget to protect my lips with a nourishing balm or conditioning oil like Ami Colé's, which also gives my pucker the best shine.
"For my morning body-care routine, I shower with Luv Scrub Mesh Body Exfoliator and Olay Body Wash. The Honey Pot Sensitive Foaming Wash keeps me fresh and clean 'down there.' I like to apply Hanahana Beauty Amber Vanilla Shea Body Butter when my skin is still slightly damp, and it gives me an incredible glow. I rotate through natural deodorants, but I have a feeling that Jada Pinkett-Smith's Hey Humans brand in the scent Lavender Vanilla will be my cold-weather go-to, as it makes my armpits feel super smooth and smells divine."
window.REBELMOUSE_ACTIVE_TASKS_QUEUE.push(function(){
window.REBELMOUSE_STDLIB.loadExternalScript("https://htlbid.com/v3/coveteur.com/htlbid.js", function() {
});
});
window.REBELMOUSE_ACTIVE_TASKS_QUEUE.push(function(){
!function(f,b,e,v,n,t,s){if(f.fbq)return;n=f.fbq=function(){n.callMethod?n.callMethod.apply(n,arguments):n.queue.push(arguments)};if(!f._fbq)f._fbq=n;n.push=n;n.loaded=!0;n.version='2.0';n.queue=[];t=b.createElement(e);t.async=!0;t.src=v;s=b.getElementsByTagName(e)[0];s.parentNode.insertBefore(t,s)}(window, document,'script','https://connect.facebook.net/en_US/fbevents.js');fbq('init', '1248680838922690');fbq('track', 'PageView');
});
window.REBELMOUSE_ACTIVE_TASKS_QUEUE.push(function(){
window.REBELMOUSE_STDLIB.onElementInViewport({ threshold: 400, selector: "video", oneTime: true, onIntersect: function(entry){ var element = entry.target; element.setAttribute("allow","autoplay"); element.loop = true; element.muted = true; element.autoplay = true; element.setAttribute("playsinline","true"); //element.controls = false; element.play(); } });
});
https://coveteur.com/beauty-products-glowing-skin