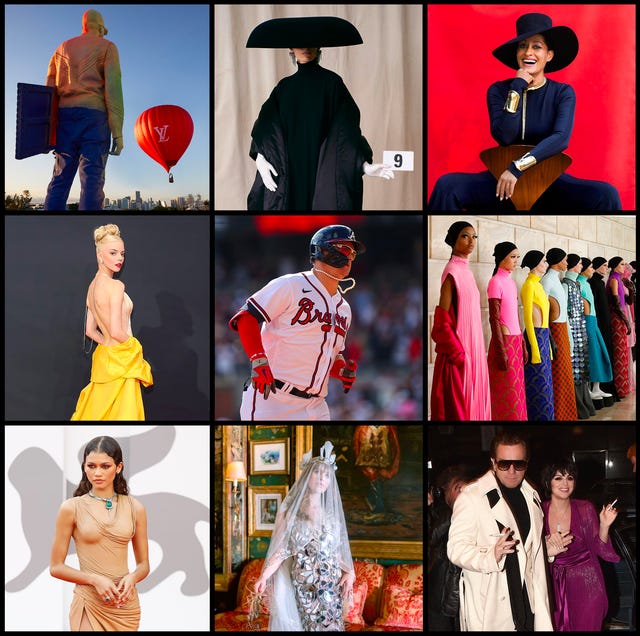 courtesy of the brandsGetty Images
Even by the standards of recent years, 2021 was uniquely packed with news- and note-worthy moments, including a few major events where fashion took center stage. From the runway looks we coveted to the fashion icons who passed away this year to the pop culture creations that shaped what we wore, here are the biggest fashion moments of 2021.
Virgil Abloh's Passing
One of the most heart-wrenching moments of this year was hearing of Virgil Abloh's passing. The designer, who founded Off-White and took the helm of Louis Vuitton menswear, was an inspiration for millions of young people in and outside of the fashion industry. He helped to change men's relationship to fashion, and open doors for young men of color. His final collection for Louis Vuitton was shown this December in Miami.
Lady Gaga in Schiaparelli at President Joe Biden's Inauguration
Lady Gaga sang the National Anthem at the 2021 Presidential Inauguration in this "bulletproof" custom dress by Schiaparelli Couture.
Kim Kardashian in Balenciaga at the 2021 Met Gala
Kim caused a serious stir with her highly meme-able outfit at the Met Gala.
Alber Elbaz Passed Away
The designer known for his big heart and fun, beautiful designs passed away in April 2021. He was the creative director of Lanvin and also started his own brand, AZ Factory. As a part of Paris Fashion Week, more than 40 designers pitched in looks to create a memorial collection at the AZ Factory show.
Amanda Gorman at the 2021 Presidential Inauguration
Balenciaga Fall/Winter 2021 Couture
Demna Gvesalia's first couture collection for Balenciaga was a smash hit. It straddled the line between heritage, high fashion, and modern style. One notable piece is the couture hoodie cut to perfection, which in a way redefines couture itself.
Loewe Spring/Summer 2022 Collection
Loewe's Spring/Summer collection by Jonathan Anderson was based in the idea of surrealism and creating in a "blank space." His one reference, The Deposition from the Cross, by the Italian artist Jacopo Pontormo in 1528, shows the sort of hysteria Anderson wanted to convey in his collection. What emerged was a dream scape of surreal fashion, where making sense isn't in the cards.
Larry David at NYFW
Our curmudgeonly king Larry David scored front row seats at the Staud Spring/Summer 2022 fashion show, where "the music was too loud."
Miu Miu Spring/Summer 2022 Collection
Miu Miu's Spring/Summer collection was all about showing skin and subverting traditionally corporate clothes. It's the next step in the current trend (and overall mood) of "Anything goes!"
Gwyneth Paltrow at the Gucci Love Parade Runway Show
The suit seen on Gwyneth Paltrow from Alessandro Michele's Love Parade collection is referencing a suit by Tom Ford for Gucci created for the 1996 Fall/Winter collection. Funnily enough, Paltrow wore the original suit to the 1996 VMAs. Now that's what we like to call full circle.
Bottega Veneta Spring/Summer 2022 Runway Show in Detroit
For Bottega Veneta's Spring/Summer 2021 runway show, B.V. flew out editors and friends of the house (including Mary J. Blige and Lil' Kim) to Detroit. The show took place in the Motor City's Michigan Theater, an opulent place built in the 1920s that has since fallen into disrepair. Daniel Lee, Bottega's lead designer who has since left the brand, loves Detroit because it reminds him of his hometown of Leeds.
Anya Taylor Joy at the Emmys
Ivy Getty's Over The Top Wedding
It was only to be expected that the heiress's wedding, marrying the photographer Tobias Alexander Engel, would be one to remember. From the John Galliano for Maison Margiela Haute Couture gown, to Nancy Pelosi officiating the ceremony, to Anya Taylor-Joy as a bridesmaid.
John Waters on the Cover of T&C's 175 Anniversary Issue
To mark our 175th year, the incomparable Mr. Waters taught us what good taste means—and how to break all of the rules in style.
Michael Kors 40th Anniversary Show
For the 40th anniversary of his namesake brand, Michael Kors put on a runway show down 45th Street in New York City that served not only as an ode to his career, but to Broadway itself. In a videotape announcement (this show premiered as a part of a digital NYFW), Kors announced a drive for the Actors Fund to help Broadway performers during the pandemic.
Tom Ford's Book 002
Tom Ford's new book is a chronicle of his designs for both Gucci and Yves Saint Laurent, but also a manifesto of sorts on good brand design, which includes architecture, advertising, and visual imagery. It also includes personal reflections on love, loss, and fashion.
Gucci Love Parade
The runway show took place on Hollywood Boulevard and celebrated the glamor of Old Hollywood and its stars.
Pharrell on the Cover of T&C's Summer 2021 Philanthropy Issue
Pharrell Williams graced one of T&C's 3 covers for the Summer Philanthropy Issue for his organization Yellow. He's even wearing pearls!
Prada's Tails for Spring/Summer 2021
Miuccia Prada and Raf Simons' newest collaborative collection was all about womanliness and modern sexiness. Though the hemlines were higher, adding a tail to the back of a mini skirt gives it a black-tie feel that we haven't seen before.
Every single one of Zendaya's Red Carpet Looks
No one understands the assignment on the red carpet quite like Zendaya, who always manages to look both flawless and on-theme. Case in point, the sultry, sand-colored gown she sported for the Dune premiere at the Venice International Film Festival.
Christian Dior Designer of Dreams Exhibit
Micaela Coel at the Emmys
Micaela Coel's bold and colorful look by Christopher John Rogers was a showstopper on the Emmys red carpet. Later in the night, she won the award for Best Writing in a Limited Series for her work on I May Destroy You.
Netflix's Halston Series
Netflix's Halston was naturally all about the fashion —but it was also about disco, the beginning of fashion licensing, and the journey Roy Halston Frowick took to become Halston. The series was a disco-era dream, and a great refresher (or introduction) to Halston's genius.
Emma Corrin in Miu Miu at the Emmys
The Crown star definitely got people talking with her dramatic monochrome look with matching hat and fingerless, elbow-length gloves and talon-like fingernails.
Versace x Fendi
Affectionately dubbed "Fendace," this collaboration really shook up Milan Fashion Week.
House of Gucci
Ridley Scott's film House of Gucci chronicled the relationship between Patrizia Reggiani (Lady Gaga), and Maurizio Gucci, which tragically resulted in his death. Of course, being a movie about the Guccis, it had some major fashion moments—including Adam Driver in this cable knit sweater.
Balenciaga "Hacking" Gucci
To celebrate Gucci's 100th anniversary, Alessandro Michele's Aria collection was an ode to the history of both Gucci and Balenciaga. This specific look was recently seen on Beyonce.
Ralph Lauren's Winter Olympic Uniforms
The classic American designer's take on athletic, cold weather, prepster chic proved once again that sporty and stylish always go hand-in-hand.
Paris Hilton's Wedding
Fans have been waiting a long time for the Hilton heiress to tie the knot (her engagement to now-husband Carter Reum was the star's fourth) and her ultimate nuptials did not disappoint. Not only did the reality star wear 11 separate wedding dresses on her big day (11/11) she also documented the entire day and the lead up in a 13-part wedding docuseries on Peacock titled Paris in Love.
Spencer
There have been no shortage of portrayals of Princess Diana in recent years, but Kristen Stewart's turn as the late Princess of Wales, centered around three days in the 1990's, stood out in part for capturing the people's princess's flair for style.
Tracee Ellis Ross in Elsa Peretti
A style queen in her own right, Tracee Ellis Ross wore Elsa Peretti's iconic Bone cuff and Snake necklace for the NAACP Awards. Ross was nominated for Outstanding Actress in a Motion Picture for High Note and Outstanding Actress in a Comedy Series for Black-ish.
Saint Laurent's Spring/Sumer 2022 Show
The show took place at the base of the Eiffel Tower, and featured fountains, waterfalls, and beautiful music. Even viewing it from a computer screen felt transcendent.
Purple at the 2021 Inauguration
Succession
There was plenty going on in the Roy family during Succession's season 3, especially with its dramatic season finale, but perhaps the most surprising scene-stealer of the season was the fashion, including some dress choices for Sarah Snook's Shiv (like the white number she opted for for her mother's wedding) that had fans in a furor on social media.
Christina Clemons' Earrings at the Olympics
Christina Clemons "forgot to pack earrings" when she was competing in the U.S. Olympic Track & Field trials for hurdles. Instead of going bare, Clemons hit the nearest mall and grabbed all the fun earrings that caught her eye, ensuring she never had to repeat a pair. The the dangling mini Doritos here took the internet by storm after Clemons ran her qualifying race in the 100 meter hurdles.
And Just Like That…
And just like that…. the Sex and the City reboot came out with a bang. HBO's And Just Like That has everybody talking about Pelotons, Kim Cattrall's (Samantha Jones) absence, and how the three ladies are stumbling through the modern world.
Lakeith Stanfield in Saint Laurent
Lakeith Stanfield's custom Saint Laurent jumpsuit at the 2021 Oscars set the internet on fire.
Emma Raducanu at the US Open
When the 18 year old tennis star took home a stunning victory at the US Open, she won the hearts not only of tennis fans, but of fashion lovers as well.
Naomi Osaka at the US Open
2021 was a big year for Naomi Osaka, but before she made headlines for speaking out about mental health and the complicated relationship between professional athletes and the press, the defending US Open champion wowed in a sheer, citrusy tennis dress that certainly helped make tennis style one of the biggest trends of the year.
Marc Jacobs Return to the Runway
Marc Jacobs' return to the runway since his last show in February 2020 was a joyous occasion. The show was held at the New York Public Library, and it was one of the first I.R.L. fashion shows since the start of the pandemic. The collection felt space-agey but overall free — from gender, traditional proportions, and constraints.
Harry Styles' Tour
Never one to shy away from a fashion statement, Harry Styles's latest tour has given fans plenty to get excited about.
The Tina Turner Musical
The iconic Tina Turner earned a long-overdue spot in the Rock & Roll Hall of Fame this year, while the musical celebrating her life and legacy also made a triumphant return to Broadway after more than a year in hiatus, bringing with it not only Turner's beloved music, but also many of her most famous fashion moments.
Tory Burch's Block Party Runway Show
For Tory Burch's Spring/Summer runway show, she threw a block party on Mercer full of stalls from local businesses, showcasing delicious foods, fun goodies, and beautiful flowers. The runway show also served as a nod to the new Tory Burch Claire McCardell Fashion Fellowship at the Maryland Center for History and Culture.
Valentino's Fall/Winter 2021 Couture Show in Venice
Set in Venice's ship building yard, Gaggiandre, the Valentino couture show was a magnificent display of the beauty of couture and Venice's beauty. Guests were all asked to wear white, as to reflect the light coming off the water in the most beautiful way possible. The collection itself was breathtaking, with some looks taking upwards of 850 hours of work. It was a brilliant presentation of vitality and Italian resilience.
This content is created and maintained by a third party, and imported onto this page to help users provide their email addresses. You may be able to find more information about this and similar content at piano.io

https://www.townandcountrymag.com/style/fashion-trends/g38505359/the-major-fashion-moments-of-2021/