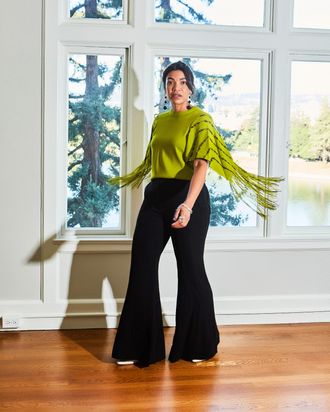 Photo: Courtesy of Sherri McMullen
Sherri McMullen spent 15 years as a buyer, using her position to support designers of color and advocate for diversity, equity, and inclusivity in the fashion world. Staying true to that mission, McMullen opened her namesake concept shop in Oakland in 2007, featuring both emerging and established designers like Khaite, Christopher John Rogers, Rachel Comey, Proenza Schouler, and more.
"After working for fashion corporations for years, I wanted to do something for myself," she told the Cut.
We spoke with McMullen about France, the early aughts, and Bottega Veneta.
How do you thank someone for a gift?
Saying thank you and a handwritten note. If it makes sense and is related to business, a thank-you shoutout on Instagram.
What would you never wear?
Flip-flops outside of the pool or beach.
What's your dream vacation?
Every summer, we spend time in Europe. We start in Paris for June fashion market, stay for my birthday, and end up in the South of France or Italy. My dream is to take a month off each summer and spend more time in France. It holds a special place in my heart as my son was conceived in Paris, and I've spent my birthday there for almost a decade.
What's a good book on your coffee table right now?
Becoming by Michelle Obama.
Last show you binge-watched?
The Crown.
What's your guilty pleasure?
Wine.
Secret to hosting a good party?
A good playlist.
What is a trend that you like right now?
Crochet tops and dresses.
One you don't understand?
Low-rise denim, pants or skirts. We went through that trend in the early 2000s, and I hoped to never see it again.
Favorite restaurant in New York?
Sant Ambroeus in Soho. I love the quaint ambiance. The food is simple and delicious, and the staff is wonderful. I go whenever I'm in town.
What's the one thing you could eat every day for the rest of your life?Tacos.
Shoes you wear most often?
Bottega Veneta mules or low-heeled pumps and my Proenza Schouler Birkenstocks in every color.
What are three inanimate objects that bring you joy?
"I collect her glassware and have them in colors from pastel to jewel stemware and Champagne couples. When you buy one set, you keep buying them."
"I love her use of mirrors and hand-woven pieces to create these really interesting wall hangings."
"It's both spicy and a bit sweet."
https://www.thecut.com/2021/11/the-boutique-owner-helping-women-find-their-own-style.html