While fashion is very often concerned with the surface of things, those things aren't always quite what they seem. Over the last couple of seasons, we've seen fashion get trippy, comical, and flat-out bizarre. There's been an abundance of trompe l'œil play (ranging from leather "jeans" at Bottega Veneta AW22 to all the body prints and motifs at Loewe, Y/Project, Alaïa, and Schiaparelli to name but a few), clothes made with the trippiest cuts and constructions (basically anything by Glenn Martens at Y/Project), and a lot of interest in the Surrealists (see: Virgil Abloh referencing of René Magritte for his Louis Vuitton AW20 collection, or Jonathan Anderson's embodiment of their subversive energy). To put it plainly, things have been looking whacky of late. While there's an obvious point to be made about the eternal quest for uniqueness, it's worth wondering if there's something else that this wave of weirdness can tell us about fashion today.
Granted, fashion has always had a soft spot for the off-centre and the bizarre – Margiela Tabi boots being perhaps the best known example – but this weirdness had often been reserved for the fashion purist, and existed in an "if you know you know" pocket of style that was rarely seen in the mainstream. That has clearly changed, however, with celebrities partaking in the weirdness of today's high fashion (see Zendaya wearing that Loewe SS22 metal plate dress) and us regular folk embracing chaotic dressing thanks to the the plethora of aesthetics and trends coming out of TikTok. Just as Miuccia Prada's ugly chic revolutionised fashion in the 90s (see Prada SS96) with its mismatched prints, clunky sandals, and dowdy greens and browns, there seems to be an appetite for surrealism today as designers show upside down heels, bags that look like torsos, and dresses that look like toy cars.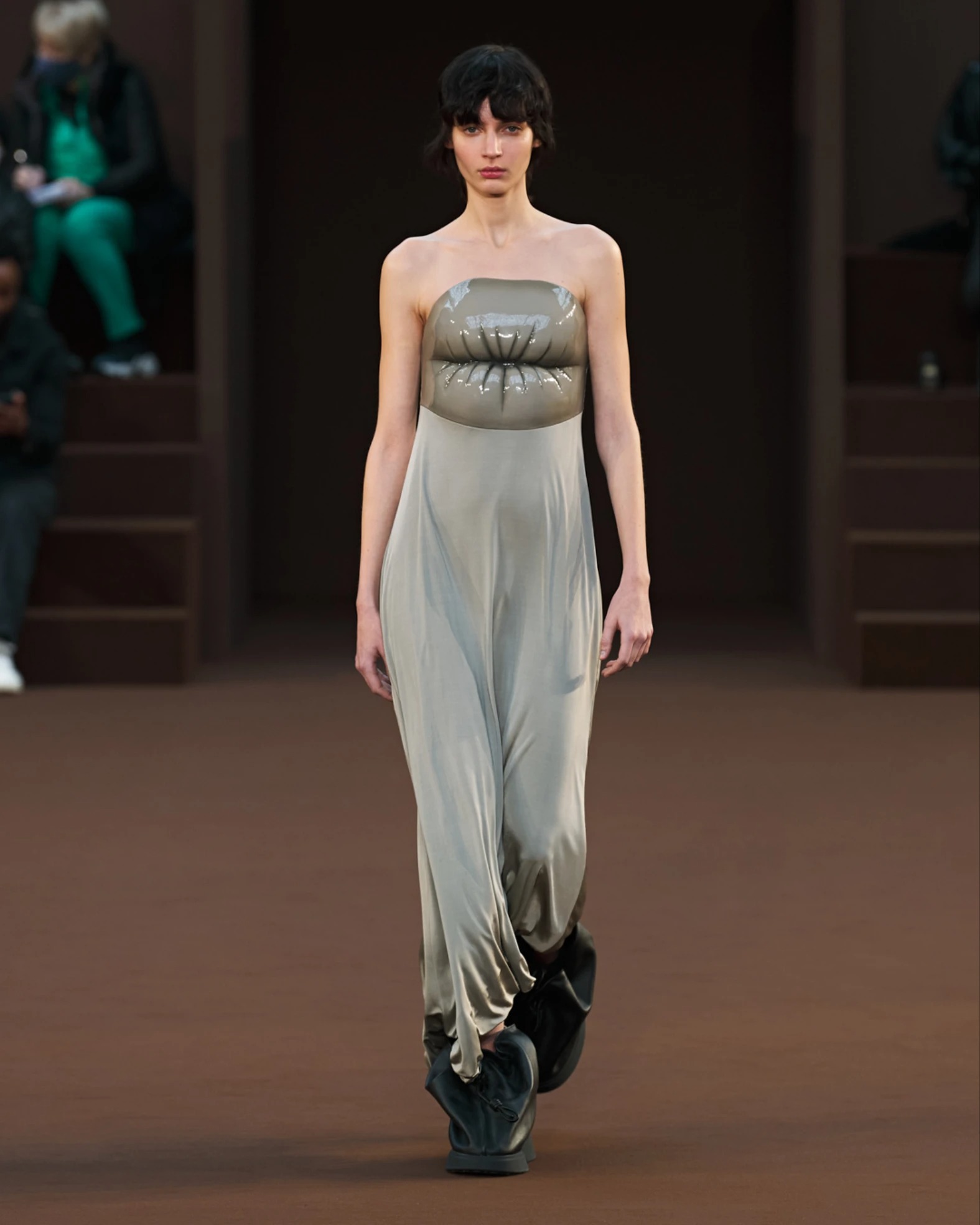 Image courtesy of Loewe.
The most interesting aspect of this fixation with Surrealism today is that it isn't novel at all. Fashion runs in cycles, so what we see today can almost always be unpacked by looking back to history. Back at the start of this decade, there was much talk about what our version of the Roaring Twenties would look like, and, while many of those fantasies were tempered by the pandemic, it turns out that we're instead going down the Surrealist rabbit hole that first appeared around the same time last century (André Breton published his first Surrealist Manifesto in 1924). While fashion today may not be bringing back flapper dresses and feather hats, it is, perhaps inadvertently, triggering a wave of off-kilter creativity that's similar to the one that defined so much art and culture 100 years ago.
At the time when Surrealism first hit fashion –think Elsa Schiaparelli's ongoing collaboration with Salvador Dalí, which started around 1935 with a newspaper print – many of the artists leading the movement were disillusioned by the post-war zeitgeist and looked at creating this alternative narrative and reality as an escape. Artists like Salvador Dalí, Luis Buñuel, and Man Ray were creating boundary-pushing avant-garde work, and their contemporaries in literature like Ernest Hemingway, T.S. Eliot, and F Scott Fitzgerald were building on themes of fast-living, loss of identity, and uncertainty, many of which still feel relevant today. These writers were named the Lost Generation, a term coined first by Gertrude Stein and used by Hemingway in the epigraph for his 1926 novel The Sun Also Rises. Lost Generation was a term also used to describe the generational cohort that was in early adulthood during WWI, and it described their disoriented and directionless spirit. The belief was that this group of creatives had values that were out of place in the postwar world, which had sidelined them.
Image courtesy of Schiaparelli
It goes without saying that there are obvious parallels between then and now. Today, we are faced with news of countless pressing global conflicts and wars every day, we continue to struggle with a global pandemic, all while seeing the rights of women and queer folks challenged by archaic systems. Plus, Millennials are caught somewhere in the middle between hopeful Gen Zers and old-fashioned boomers and Gen Xers. There is an air of both hope and desperation that inspires the irony and bizarreness of what we see in art, and therefore fashion, today.
Millennial designers like Jonathan Anderson, Glenn Martens, Demna, and Daniel Roseberry are all reimagining the aesthetic boundaries of fashion today in different ways, and their work is popular because it speaks through irony and creativity, all while fundamentally existing as a visceral reaction to the zeitgeist. A core pillar of the Surrealist movement were that it was exempt from aesthetic or moral concerns and that dream was a crucial reservoir for inspiration. As much as these elements inspired the artists of the time and bled into the fashion of designers like Elsa Schiaparelli, they are still present today in the work of these and many other designers, whether it is through the dystopia of Rick Owens or the unabashed joy of Christopher John Rogers.
Take Demna as a case in point, a designer who understands the zeitgeist, but above all has an eye for identifying the dissonant aspects of our reality and almost hysterically highlighting them to expose their surreal facets. His Resort 2022 collection, titled "Clones," explored deep fakes. The clothes were real, but the models were deep fakes of the same person (the artist Eliza Douglas, a mainstay of Demna's runways) and danced all over the lines separating the real and digitised, all while commenting on the illusion of individuality.
Glenn Martens exists in a space of trippiness and bizarro, making clothes that are deliberately difficult – things that are not for "everyone" (whoever everyone is these days). It is this that has made his work so popular; the weirdness of his deconstructive patternmaking just makes sense for this strange time in history, and people will gravitate toward the strange in favour of being anything but basic.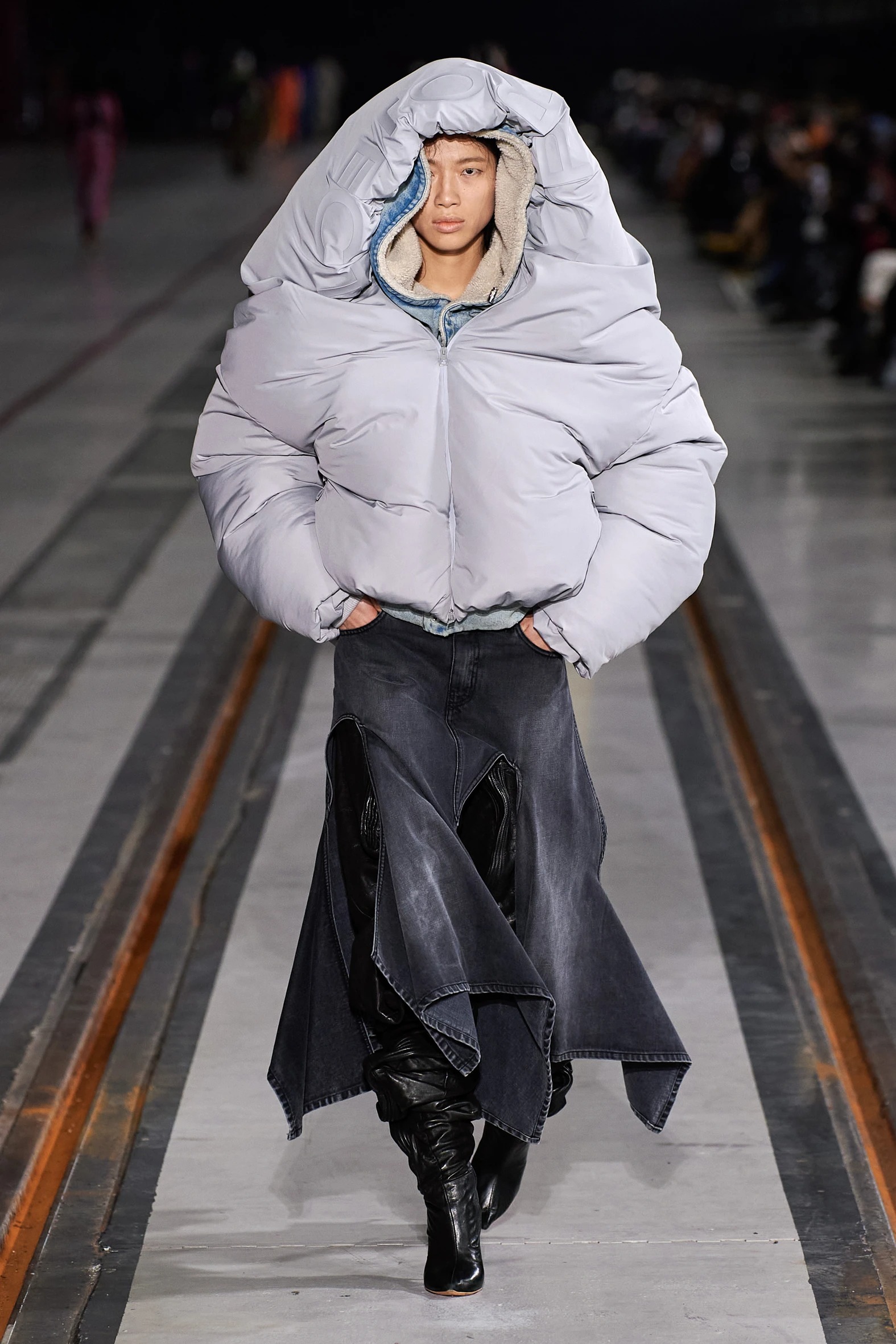 Image courtesy of Y/Project
Jonathan Anderson occupies a psychedelic space that is grounded in distinctly queer, playful sensibility. His work exists in a constant dialogue between reality and fantasy, and as often as he seems to shift his thinking season after season, his approach finds consistency in curiosity. It's in this respect that his work perhaps most clearly echoes that of the 20th century Surrealists, who prioritised automatism – by which artists suppress conscious control over the making process, allowing the unconscious mind to take over – as the ultimate method of creation. This approach makes itself felt in the seemingly free-associative thought patterns that define Jonathan's collections – how he jumps from balloons to bodies to cars and lips, as was the case with his AW22 collection for Loewe.
Among the designers most obviously leaning into this spirit is Daniel Roseberry, who's been making waves with his work at Schiaparelli, mining the Surrealist heritage of the house while still seeking to infuse it with new ideas. At it's most out-there his work directly references Elsa's work closely – see: the 1937 Shoe Hat in originally created in collaboration with Dalí, and recently revived for Daniel's AW22 collection, for the house. At large, however, his output strikes a knife-edge balance between referencing familiar proposals from the archive – as well as those by designers like Yves Saint Laurent and Jean Paul Gaultier – and finding a contemporary approach to recontextualise them.
Whether this wave of intentionally weird fashion is simply the latest iteration of ugly chic or the second wave of an artistic instinctive reaction to complex times in history, there is a joy in weirdness that must always be celebrated and welcomed. After all, nothing feels better than knowing you're serving in the wildest outfit you've ever worn, so why not embrace the kookiness just like Wallis did Dalí's Lobster painting and bring that surreal fit you've buried in the back of your mind to life as a walking, wearable work of art.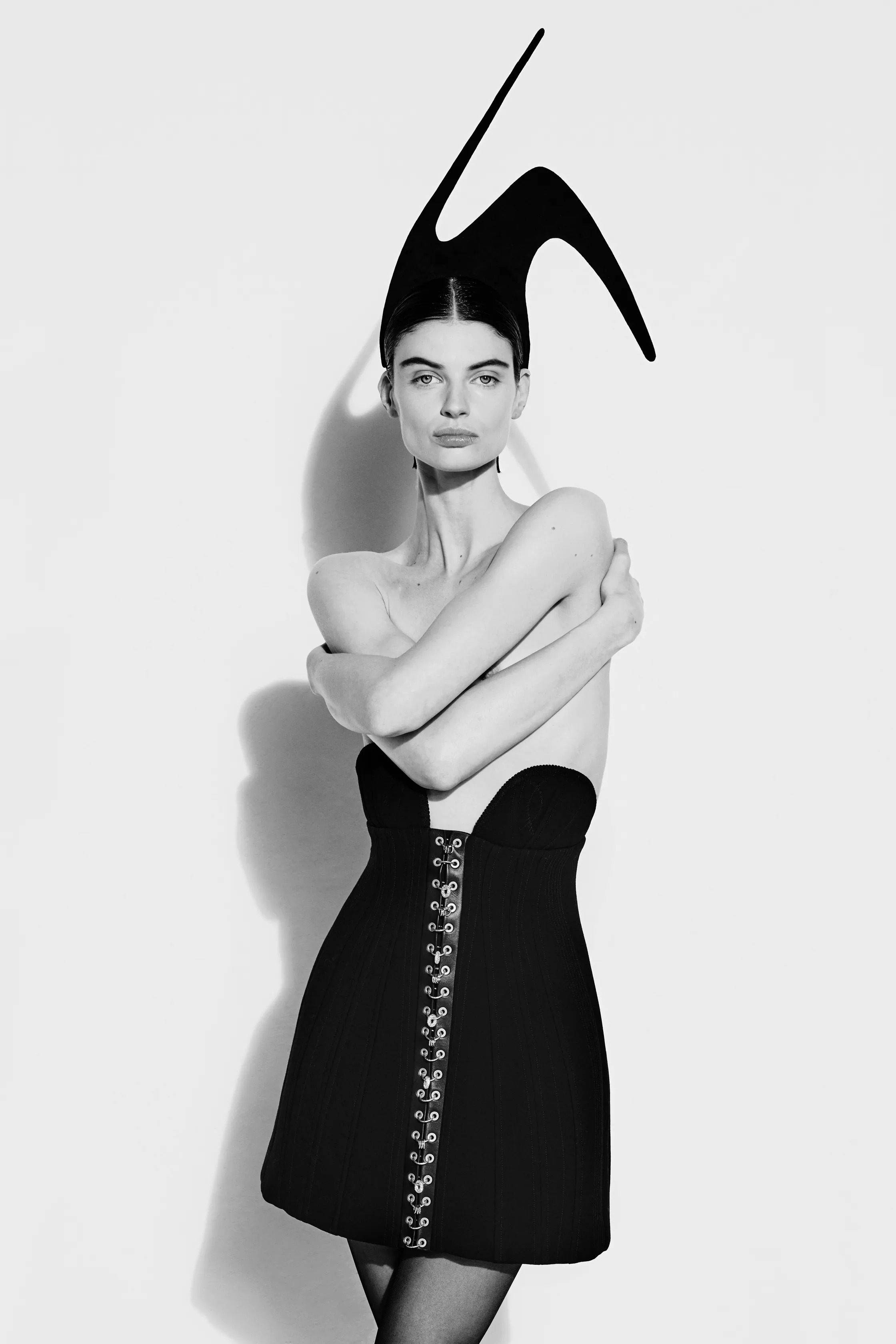 Image courtesy of Schiaparelli

https://i-d.vice.com/en_uk/article/akv5kj/surreal-fashion-aw22-trend